Building a backup Internet connection with the Unifi LTE Pro device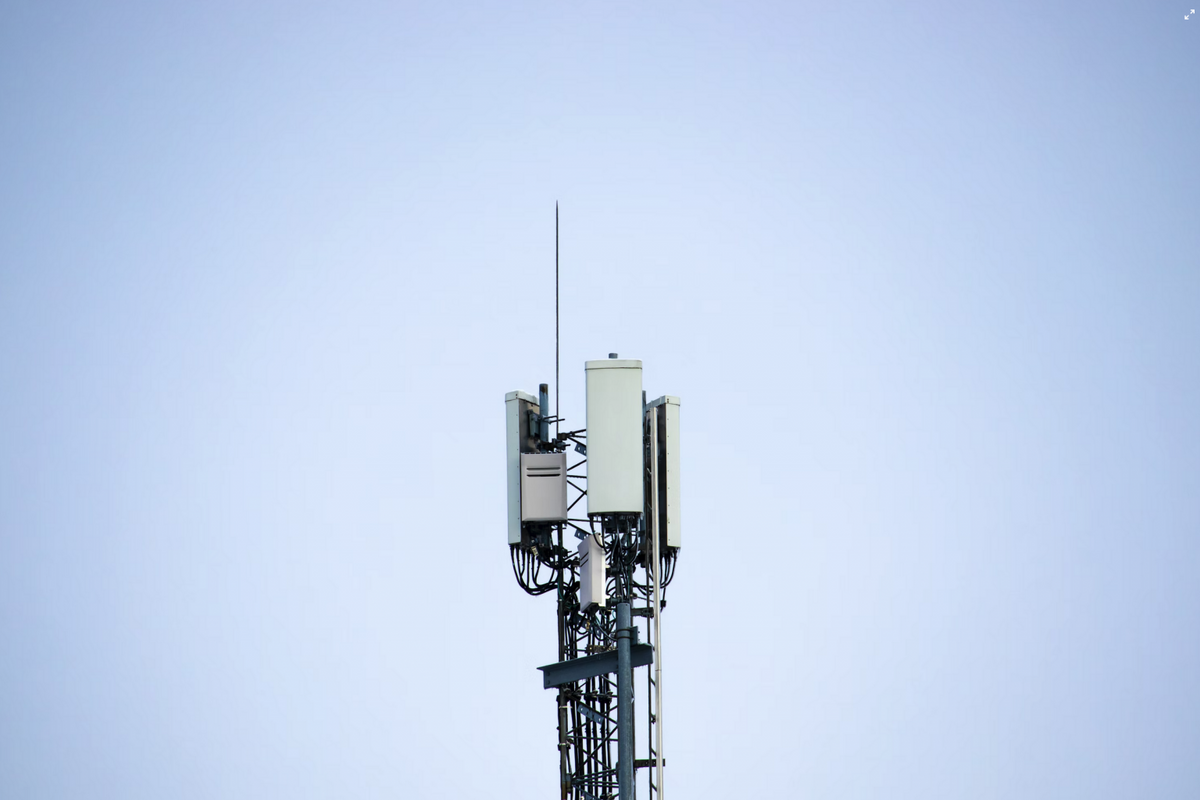 At home, I have a fiber Internet connection from a local operator. Nominally, it's rated 1000 Mbps/500 Mbps, and I usually get closer to those speeds. I rarely utilize the capacity as I don't need to run production services from home. Each year, I'm also in contact with the sales team to ask whether they can upgrade my connection to 10 Gbps, but the hopes of getting that soon are slim.
My home network is built around the Ubiquiti Networks' UDM-Pro, which acts as a firewall. Another Unifi switch connects to that as a backbone, and I then have about 25 devices wired devices and about 30 wireless devices throughout the network. Not massively, but just enough to make life miserable if my WAN link fails. If you want to learn more about my overall setup, see Part 1 here and Part 2 here.
Has my Internet connection failed? No, not really. It went down for 3 seconds (!) at 3:30 a.m. Sunday about two months ago. I didn't notice this until Unifi notified me the next day. Before this, the connection was down once a few years ago for about an hour. Overall, it's rock solid. Should it fail in the middle of the working day, I'll hop to my mobile phone's 5G connection for a moment.
However, Unifi released a backup Internet connection device I knew I needed. It's the Unifi LTE Pro – a 4G (LTE) device with a built-in antenna.
The list price is 229 €, excluding VAT and shipping. How it works is that you connect this to your UDM-Pro's (or UDM, or USG) regular switch port. Then, if your primary WAN link fails, the LTE Pro wakes up and starts serving Internet connectivity to your network.
I ordered the device directly from Ubiquiti and received it in less than two weeks.
Problems arise
I decided to install the device immediately, even if it's intended for the future house using a different Internet provider. It's a good idea to test this ahead of time. I visited my mobile operator's shop to purchase a 4G contract for the device.
Here's the first challenge. I wanted a data plan with the lowest possible monthly fees but with unlimited data. Most plans sold in Finland are your typical 4G or 5G plans with unlimited data, but the subscription is easily 15 to 30 € per month. As I won't be using this connection much, I didn't like paying up to 360 € a year for a backup connection that I might not even use. Then, I found an operator with a 4G contract designed for tablets and "summer cabin" usage scenarios. The base fee is around 5 € a month, and for each day I utilize the connection, I pay 0,99 €. The maximum cost per month is capped at 15 €. And to sweeten the deal, I can end the contract at the end of the month, so I'm not bound to a multi-year deal. In an ideal scenario, I pay 60 € per year for the subscription and about 1 €/month when defaulting to the backup connection once a month. Great!
The device requires a Nano SIM, so I popped that in and started the device. It utilizes Power over Ethernet, so you need a PoE Injector. And here's the second challenge. Ubiquiti has made determining if your current PoE Injector is the right type challenging. I found two documents for the Unifi LTE Pro, one stating that it requires a PoE Injector of type 802.3af and another saying it has to be 802.3at. The latter is also known as PoE+. The difference between these two is that the 802.3af provides up to 15.4W of power, and the 802.3at provides up to 25.5W of power.
As I did not order a separate injector, I dug through my stash and found one PoE injector of type 802.3af. Let's hope it works! Mind you, a new injector will cost you about 10 €, so it isn't about the cost but the hassle of ordering a small widget like this and waiting another two weeks for it to arrive.
The device powers up and is waiting for adoption. But it's nowhere to be found! It gets an IP address, but I couldn't ping it. I did a few factory resets, but it was still dead on the network. I figured the problem was with missing power, and perhaps the display had enough power, but the LTE antenna could not start. After sleeping over it, I decided to do one more factory reset and change the switch port on the UDM-Pro from #1 to #2. It shouldn't make a difference.
But it did! The device started responding to ping, but I couldn't adopt it through the Unifi admin interface. Thankfully, SSH worked, and I could log in with the default credentials to the device. Using the Unifi shell command set-inform I woke it up and started the adoption process through the Unifi admin interface.
Configuration
Once adopted, the device materializes as a regular network device in the https://unifi.ui.com portal.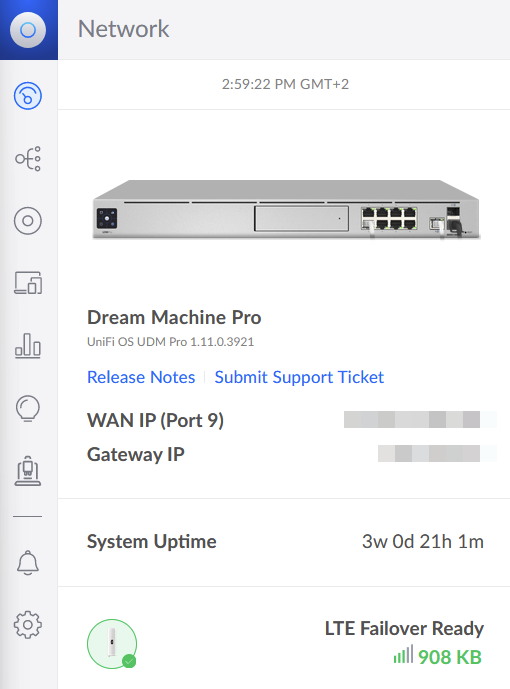 You can configure the settings, such as the SIM card PIN, through Unifi Devices:

It's a lot of data, but knowing if any problems arise is helpful. After almost six days, data usage is less than 1 megabyte. Each day, it seems to ping the mobile network to ensure the IP address from the operator's DHCP service is still valid. It's about 151 KB per day, which is worryingly much, though, as if I go over 50 KB/day, I get treated to the 0,99 € surcharge for that day.
Let's double-check this! From the operator's customer service portal, I can verify that the current cost – from the past six days I've had this setup – is 5,94 €: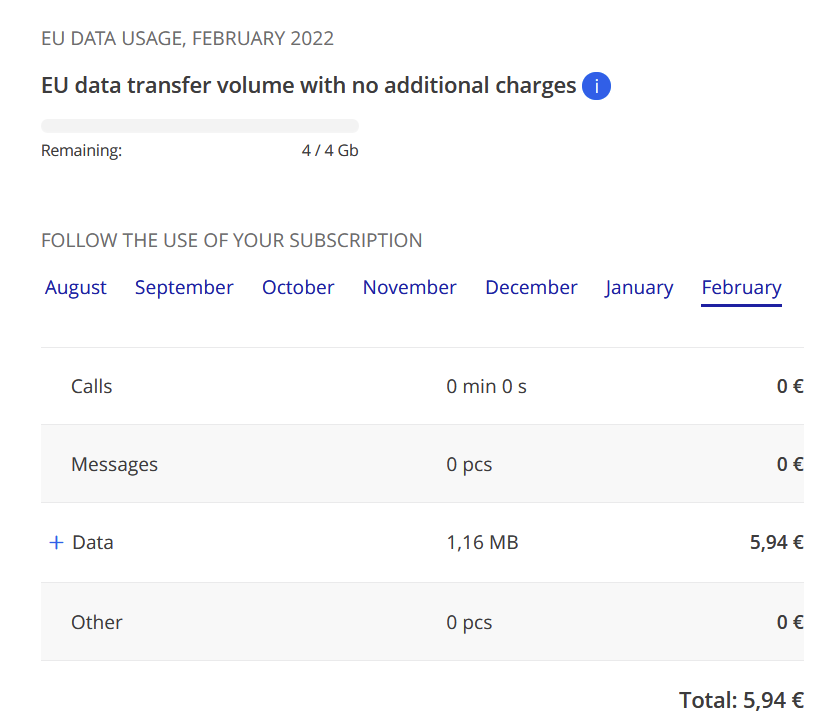 4,99 € is the base charge, and I've been charged for 0,99 €, thus for one day. I suspect that is for when I set up the device and tested that it works. Phew! So, the traffic I am witnessing, albeit minimal, is regular operator-related traffic and not something I'm causing from my internal network.
The device also supports custom data limits. As I don't have any data limits on the contract (beyond 4 GB/month for EU roaming, for when I'm traveling), I disabled the limits. Interestingly, it doesn't understand if I connect to the Unifi admin portal using the mobile phone app. I suspect this device is bound to an AT&T-branded mobile phone plan in the US, and the mobile app seems hardcoded for that reality.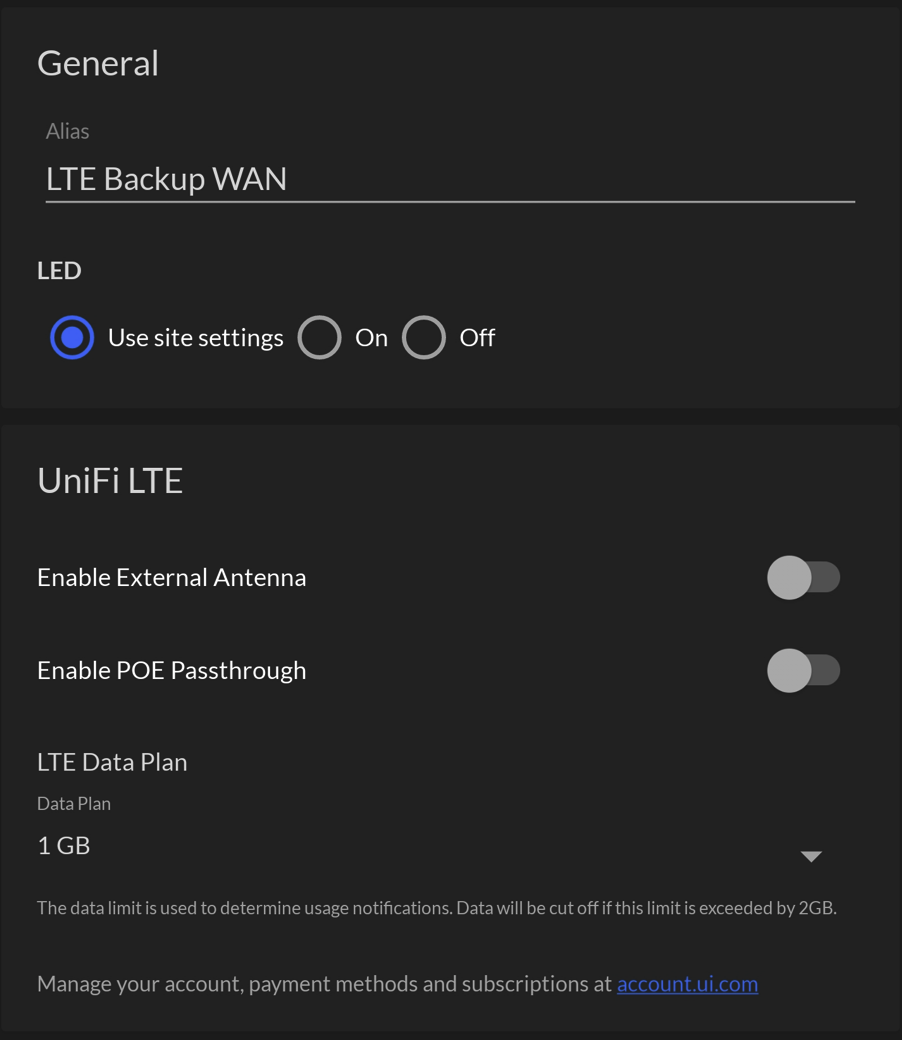 Under the LTE Data Plan, I can only select a GB value between 1 and 20. You cannot set it to unlimited, so the mobile app always complains that I'm about to exceed my artificially limited data. If I go to https://account.ui.com as it suggests, I get a message that I don't have a subscription with AT&T. The same goes for the main view of the device in the mobile app – my data usage is less than a megabyte, but I'm still in the red for some reason.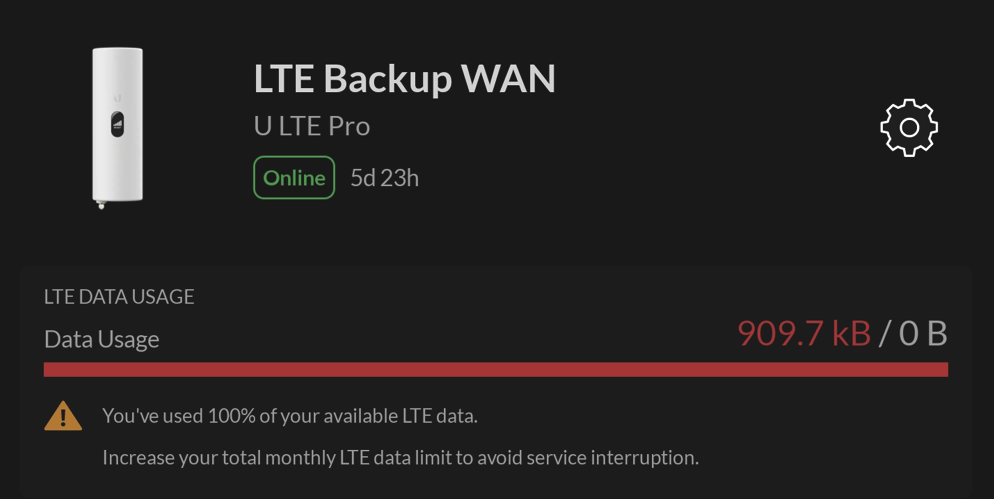 It's a minor issue, as it doesn't limit the device's usage, but whenever I see a machine in red, it makes me think something is wrong. I hope Unifi fixes this weirdness in a future update.
In closing
The device also supports an external antenna. I didn't get one yet, as I'm unsure if I even need one. Here is the device sitting on top of my printer, which is then on top of my homelab setup.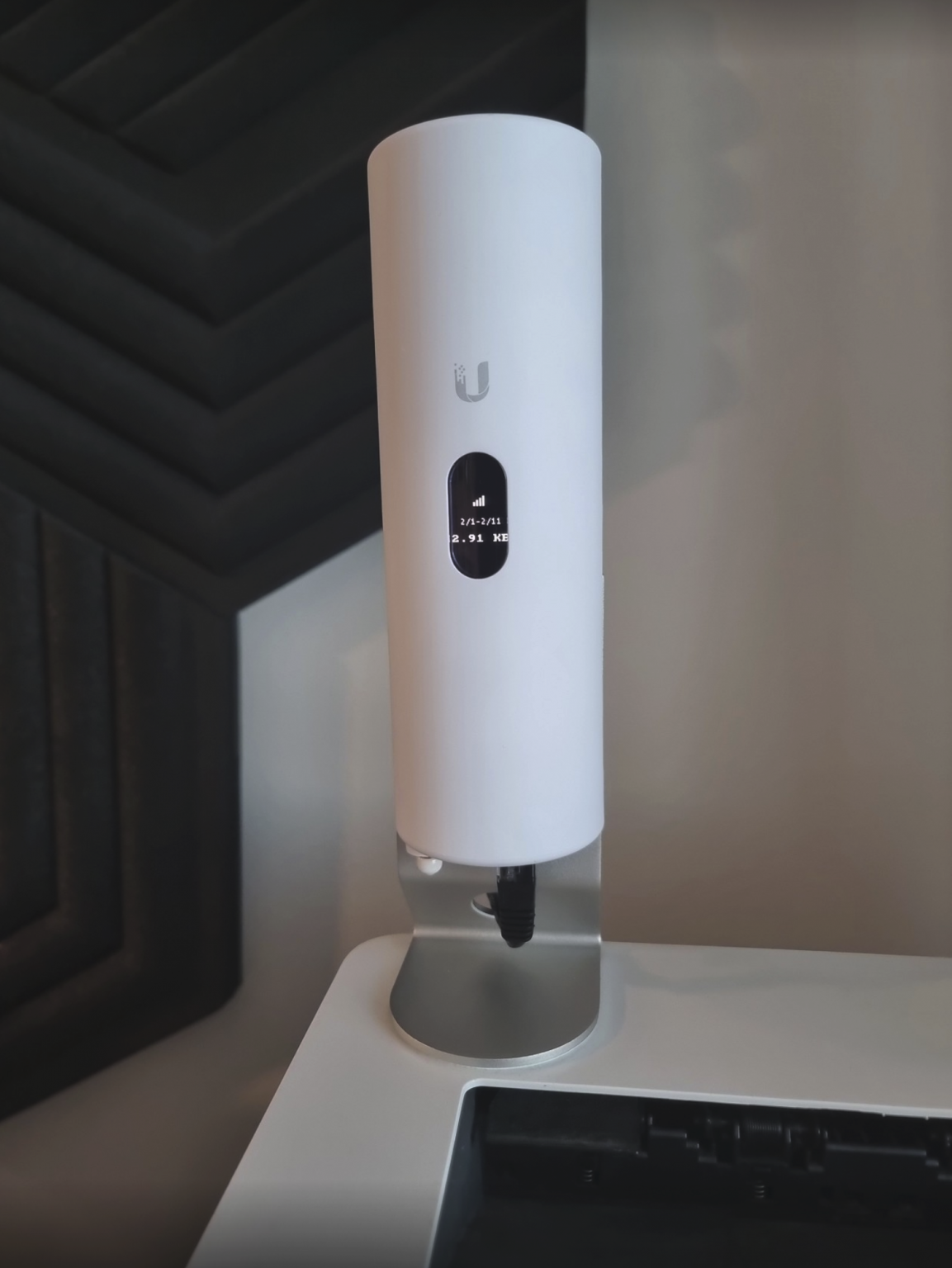 I get four bars out of five on a good day and three when the weather is horrible. As it is just 4G, I get better coverage as the closest 5G antenna is pointed in the other direction to my house.
Overall, the device is robust once you get it deployed and configured. It will never compete with actual Internet speeds, but should my WAN link fail, at least the usual stuff, such as emails and hopefully Fortnite for the kids, will still work.
Based on the datasheet, the throughput speeds for the device are up to 150 Mbps. Not an insane speed, but perhaps enough for those random needs when the Internet blacks out once every three years for a moment.