Thank you, SharePoint Saturday Paris 2016!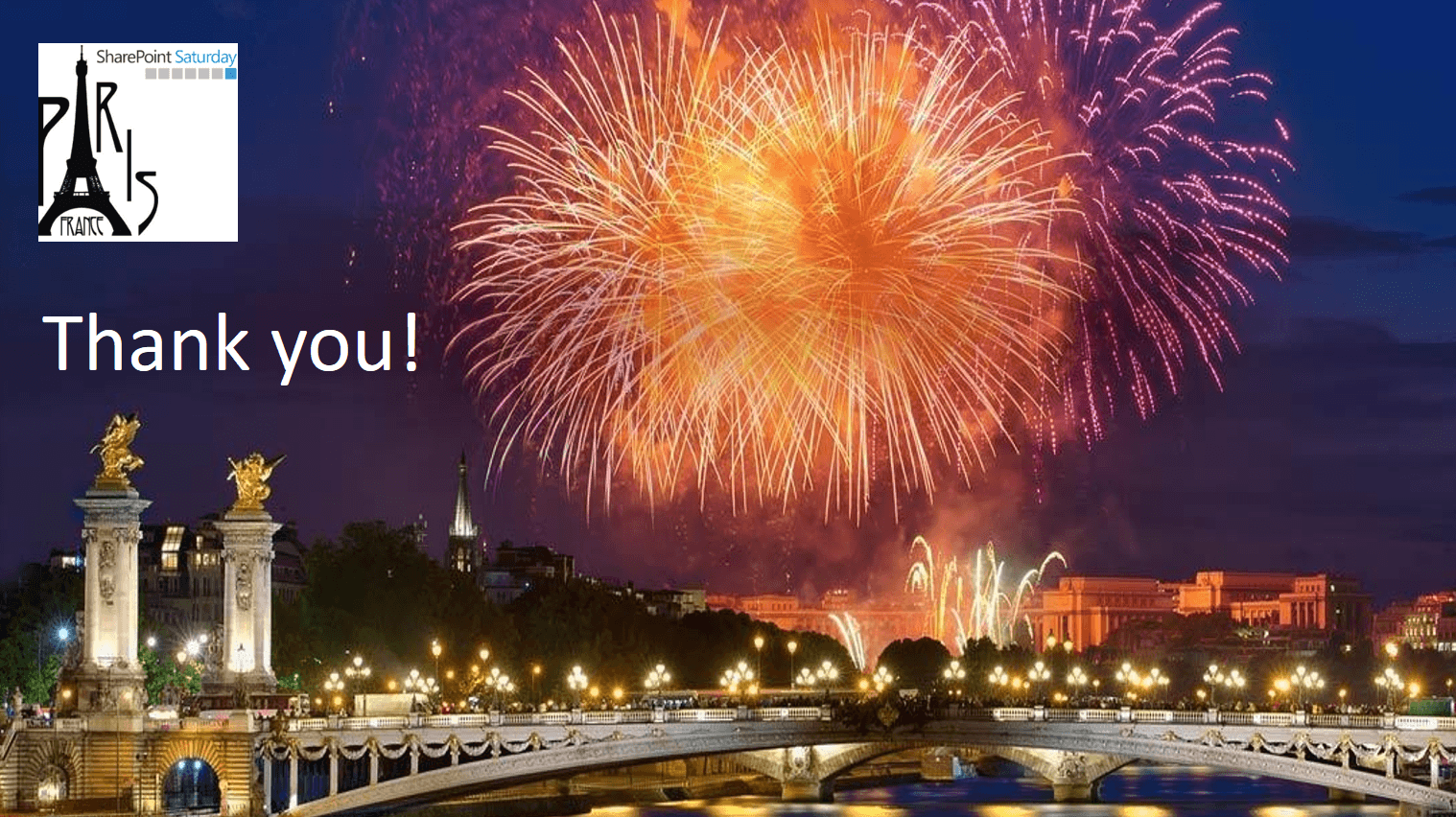 I was honored and privileged to be chosen as a speaker for SharePoint Saturday Paris 2016. The event was held this past weekend, 28th of May at the Montparnasse Tower.
My trip started as usual from the Helsinki-Vantaa airport in Finland. I normally fly Finnair, and after a few years of collecting the elusive flyer's miles I am finally able to get free coffee in the lounge. I'm not fully certain if this is the peak of my exclusive membership, but it sure feels like a lot of work.
Upon arriving at Charles de Gaulle airport I decide to take the train to the city center. I read somewhere that taxi might be prohibitively expensive as it is rush hour on Friday upon my arrival. I'm elated that there are several trains to choose from, as many of them pass by the Gare du Nord station. I decide to hop off there and continue by taxi. Later on, I learn I could have simply changed trains to get to a station next to my hotel. Next time, then.
It's very humid and I'm sensing the upcoming thunderstorms already in the horizon. The following dialog occurred in the rush hour traffic with the taxi driver:
Driver: "Where are you from?"

Me: "I'm from Helsinki, Finland (a short pause, as I see it doesn't register).. the Nordics I mean"

Driver: "Oui. Did you take the train here from Finland?"

Me: "Umm.. no?"

Driver: "You don't speak French?"

Me: "Not yet"

Driver: "Why not?"

Me: (awkward silence) ".. I'm not sure?"

Driver: "??"
As a bit of a background, my understanding of the French language is truly limited to the usual tourist phrases and I've yet to find the real motivation to start studying the language seriously. And that's saying a lot as I understood it's far from an easy language to learn. Duolingo and Pimsleur do have some seriously enticing courses on it, so maybe someday!
Later on Friday evening, I meet up with fellow speakers and Microsoft MVPs for a quick drink before heading to the speaker dinner.
I'm not a huge aficionado of French wine (more like Northern Italian wine), I go for Champagne. This time it is served very chilled and with the (apparently) mandatory ice cube. Oookay then – I am open to new experiences, and it wasn't bad at all!
Event organizers Patrick Guimonet and Gokan Ozcifci arranged the speaker dinner on a riverboat down the Seine! On the way there we spot the Eiffel tower, which in plain daylight still looks pretty awesome.
After dinner, we head to the top deck for some scenic views. I might need to move to Paris, just to witness this on a daily basis.
The Parisiens also have the Statue of Liberty. Looks less crowded than the other two in Vegas and NYC.
Following day we start early and head to Montparnasse Tower. The event is held on the 40th floor, and due to recent tragic events in France, the security is quite uptight.
We also had an emulator for playing retro games. This was popular!
The view was simply stunning.
My session was titled PowerApps Deep Dive for the IT Pro, and you can find the slides here.
Mr. Jeff Teper from Microsoft held the keynote in a packed room. Someone tweeted the room was hotter than a SharePoint WFE, and yes – it really was
.
Prize raffle and closing talks in the sponsor area.
After the event, supper at a crepes restaurant!
And what would Paris be without a good class of champagne in great company?
Merci Paris, and merci to the organizers, speakers and everyone who attended!