A look at the human presence detection sensor in the Lenovo ThinkPad X1 Carbon (Gen 9)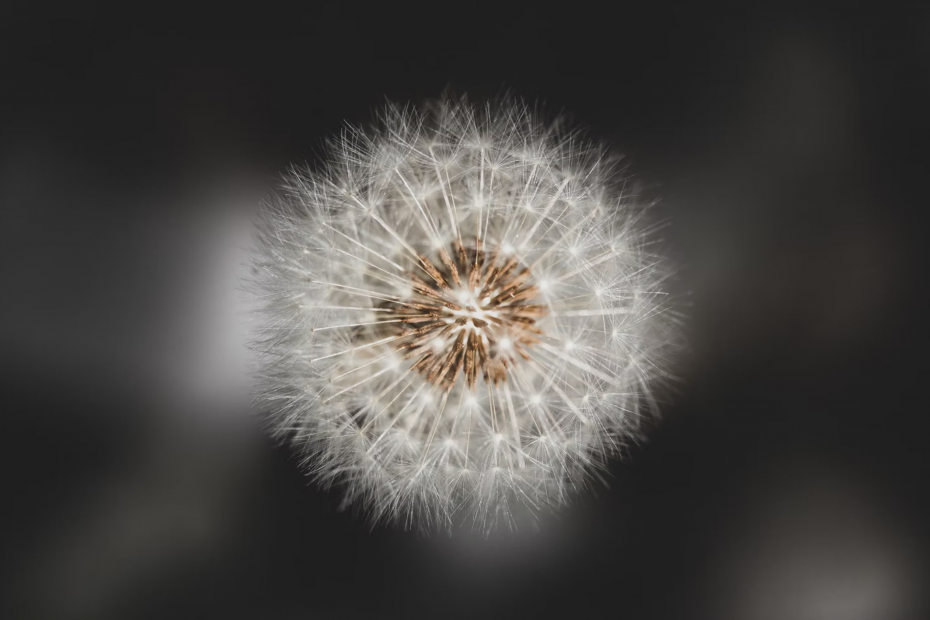 When I got my most recent laptop, the ThinkPad X1 Carbon (Gen 9), I was able to specify the hardware options (see my review on this laptop here). Without much thinking, I also added the human presence detection capability – thinking it was some small application that enables Windows Hello to detect when I'm physically close to my laptop. I was wrong.
I've since been piqued on how exactly it works. I did a fresh install of Windows 11 on the laptop and didn't add anything special. Whatever Windows fetches from Windows Update and the Lenovo Commercial Vantage app. I rarely use the latter, as even Lenovo firmware updates are now pushed via Windows Update automatically for me.
Today, I'm sitting on a train. I have my seat by the aisle, and this particular train offers free coffee at the end of the aisle. I have a built-in personal feature that when I step away from the seat or table, I work at, my fingers do the magic WinKey+L to lock Windows – without thinking. This time, I chose not to do this, as the coffee is just 3 meters away – and the whole carriage is empty of other people.
While standing up from my seat, the laptop locks itself. While walking away, the screen goes blank, and when walking back with my coffee, the computer greets me by turning on the lock screen to log in with Windows Hello.
It's as if by magic! But, how exactly does it work?
Lenovo does not say much about this capability – I recall the added cost for this feature was perhaps $20. Essentially, nothing. Here, Lenovo outlines the smart features: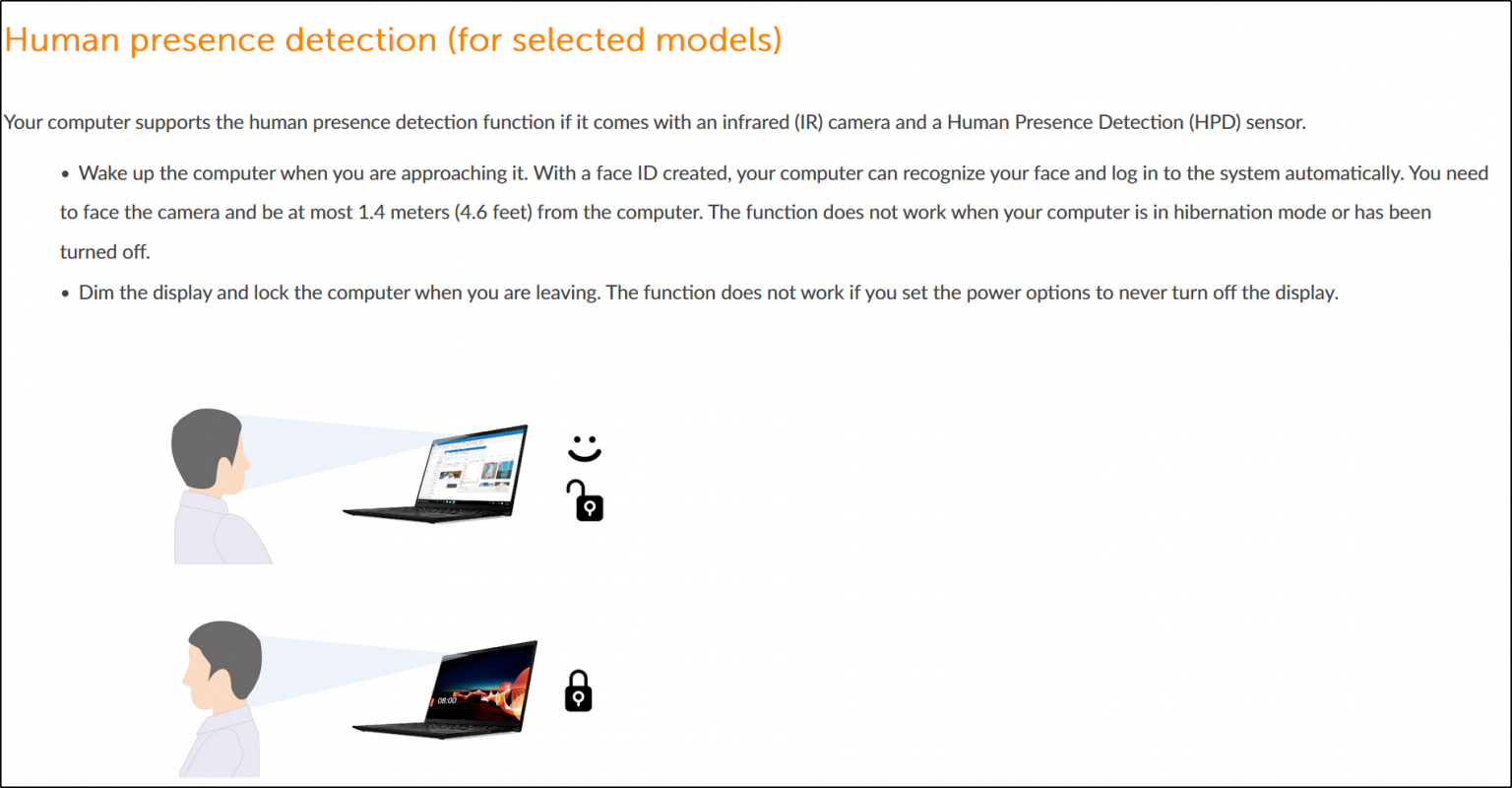 The Windows Hello logo implies it's a built-in Windows Hello capability. But it isn't, and otherwise, at home, I would have this same capability with my Logitech BRIO 4K webcam (that has Windows Hello support). As I recall, Windows Hello detects your face – primarily based on the map it has created with the IR sensor previously. This has nothing to do with the back of my head if I'm walking away.
I did a bit of creative digging and found a Norwegian company called Novelda. They've announced that their UWB (ultra-wideband) sensor will be used with Lenovo's "flagship laptop," the Nano X1. Mine isn't a Nano, but it's of the same generation. Perhaps it's safe to assume the same sensor is used in both models, then.
The sensor from Novelda looks like this:
Notice, it doesn't need an actual camera sensor. Novelda explains that the sensor can save a laptop's battery life by turning off the screen when the user is not nearby.
But what, exactly then, is the UWB sensor here? I recall that Tesla brings this same capability on select phones to help unlock the car when the driver is approaching it. Based on Wikipedia, UWB is based on radio technology with very low energy levels. In essence, it's an intelligent radar!
How I envision it works then is that upon unlock of Windows, the Novelda sensor gathers enough data using its radar on the user's presence. This is somewhat trivial, as most people are directly in front of the laptop while working. Then, when the body mass is removed, it's easy to instruct Windows to lock the user session based on the delta values. From there, the sensor pings the environment to see when the user is back. It's simply brilliant. More details on UWB, in general, can be found here. From that resource, I gather that UWB has accuracy up to 10 cm (3.9 inches). Some sensors are even more accurate.
I also found this showcase from Novelda, outlining that the sensor is being utilized in the ThinkPad X1 Carbon (Gen 9), as I assumed.
The Lenovo Commercial Vantage app has configurations for the sensor: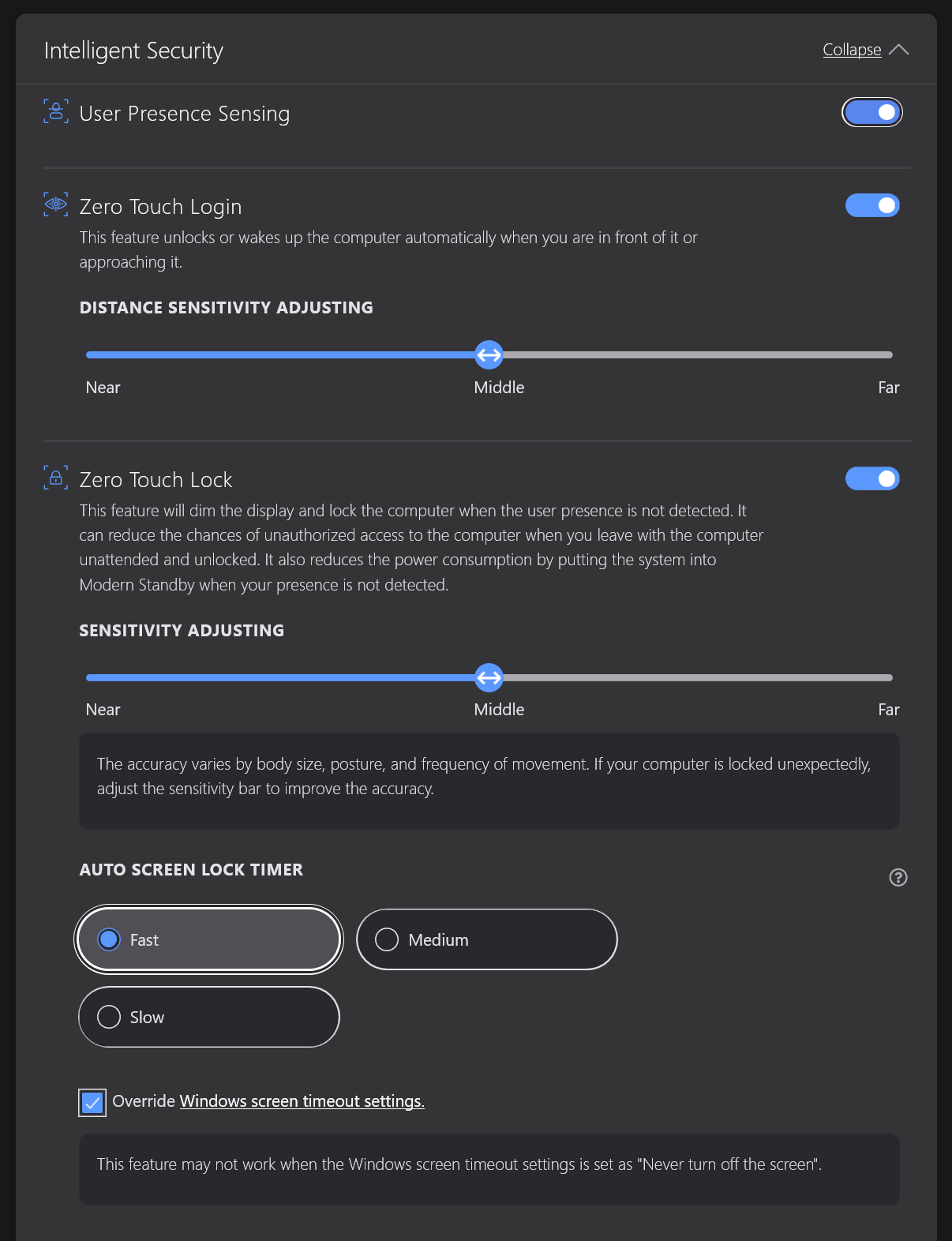 If you disable the User Presence Sensing option, all other options below are disabled as well. You can thus configure the distance sensitivity, how fast locking of Windows happens, and how sensitive the locking mechanism is. I have this on default settings, and it seems optimal.
I wish similar sensors become more prevalent in other devices as well – it's so convenient.