Review: Wrist-friendly work with the Logitech MX Ergo trackball mouse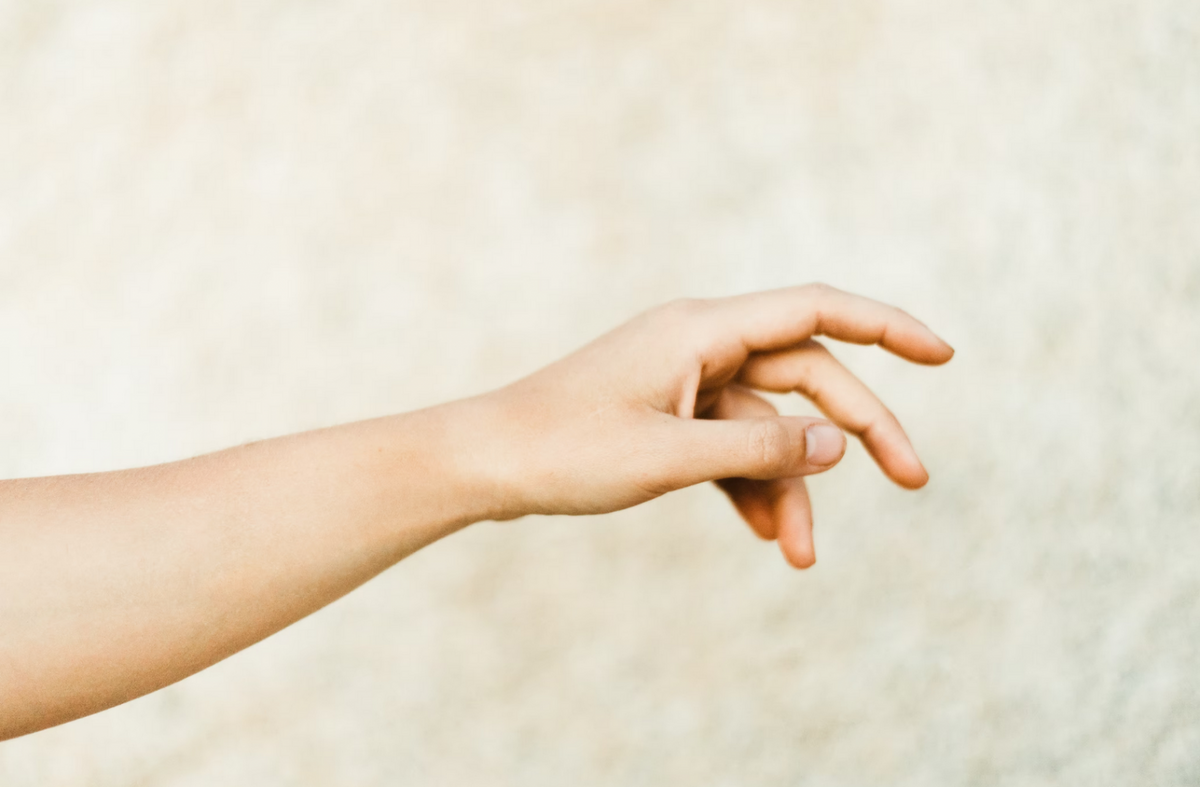 I've used the fantastic Logitech MX Master mice at home and on the road for a few years now. The latest incarnation is the Logitech MX Master 3, which has USB-C support for charging, and a long-lasting battery. However, for a few months now, I've experienced slight discomfort in my right wrist. I'm left-handed, but I settled on using it with my right hand since purchasing my first mouse decades ago. I've never had this issue before, so I started evaluating where the discomfort and slight pain originated.
It isn't rare to experience slight pain when muscle tissue is torn and repaired after gym exercises. Then Logitech announced their newest mouse – the Logitech MX Ergo. It's a trackball – thus, the mouse doesn't move, but you move the cursor with your thumb.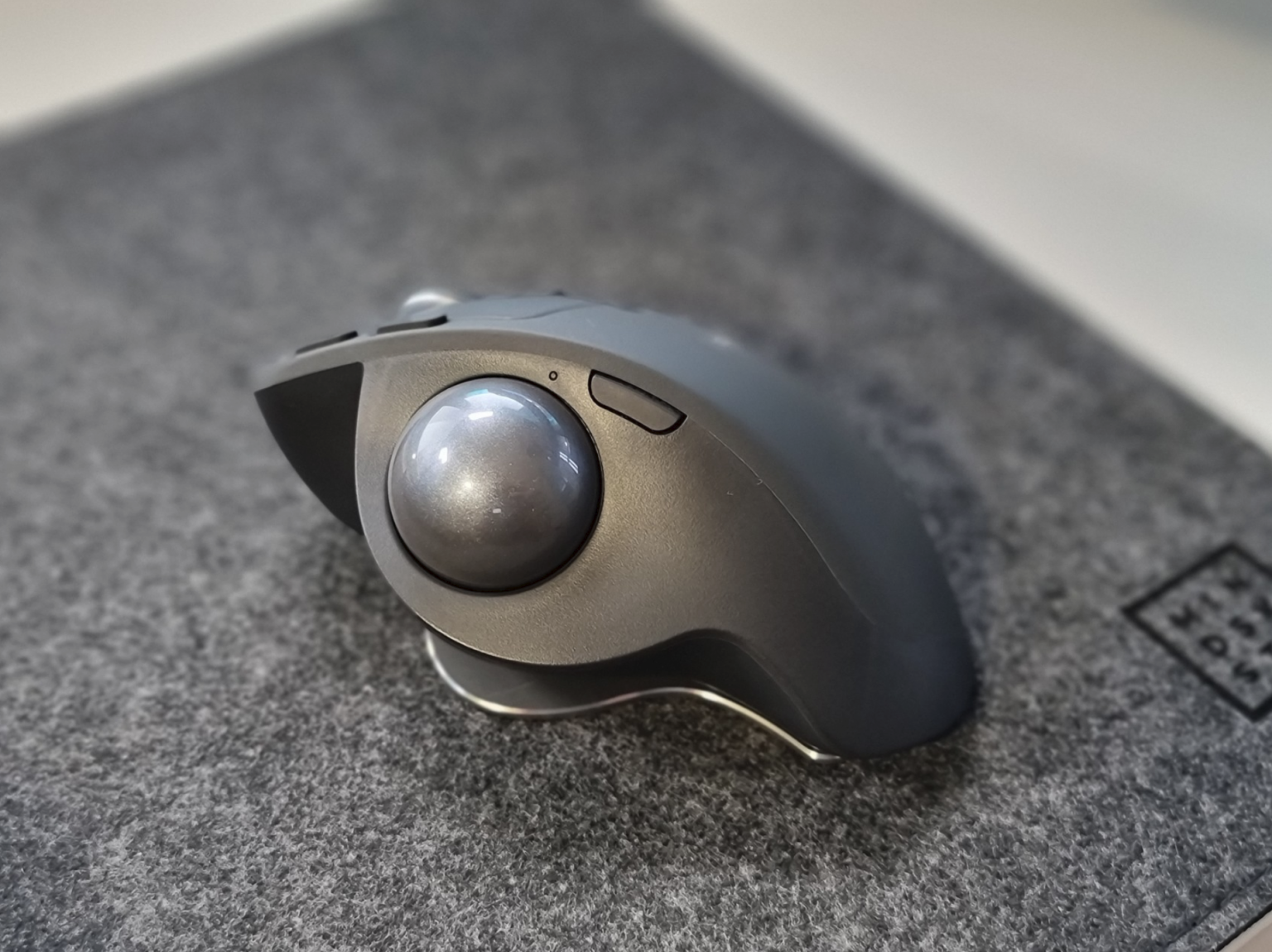 I'm not a stranger to trackballs, but it's been – at least – 15 years since I last used one. It is time to give it a try, and I hope my wrist will be pain-free in time.
Tech specs and pricing
The device costs exactly 75 € (~$86) before taxes. Not super cheap, but not too expensive either. You could expect it to last for years with this price point. In a way, it feels like an eternal device if you take care of it regularly.
It has a sensitivity of 320 to 440 dpi, which should be detailed enough for any work. The battery should last four months, but this is, of course, dependent on your usage pattern. I think the previous Logitech MX Master mice promised three months, and I usually ended up charging the device after six weeks. It's not a huge issue, as you can still use the device when it's charging.
It weighs 164 grams, but when you had the steel plate to the bottom (pictured above), it was a hefty 256 grams. I don't mind, as I rarely carry this elsewhere.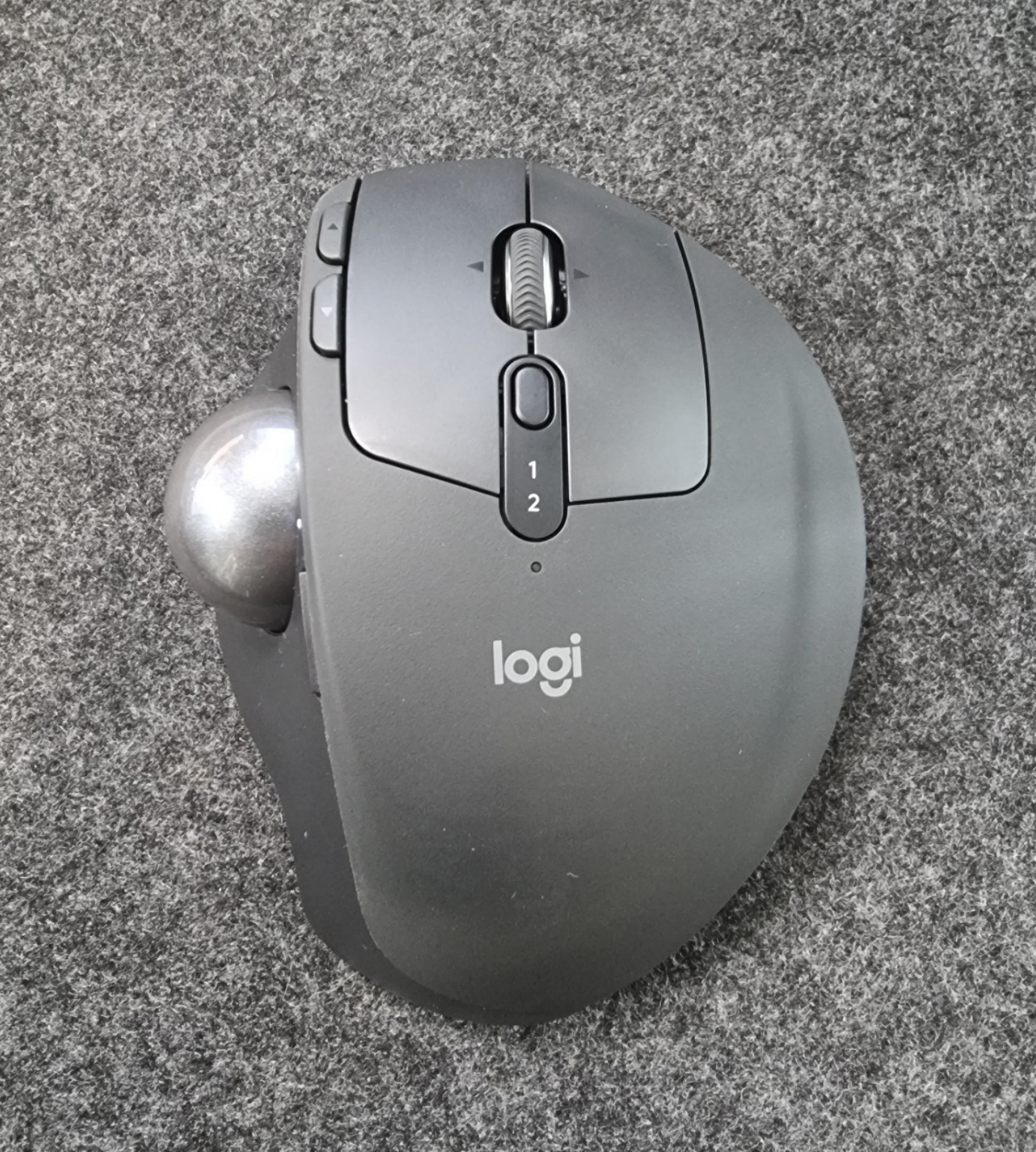 About the steel plate. It connects with strong magnets, allowing you to shield the brittle bottom of the mouse from scratches, but also allows for another feature: You can tilt the mouse by 20 degrees to make it more comfortable for someone like me. I ended up using the mouse in this angled mode at all times – it's super comfortable.
Beyond the actual trackball, the device has a scroll wheel that also allows for horizontal scrolling. This is slightly cumbersome, and it's reversed for me – I couldn't find a setting to configure this. The middle button allows for quickly changing the connection between the USB dongle and Bluetooth. Useless, as once it's configured with the dongle, you never need to switch to Bluetooth any longer. I wish this button would be used for something else.
Then there are the back and forward buttons and a third button for more detailed work. It slows down the trackball when you need to work in pixel-perfect apps. I usually click this button when I need to take a screenshot, and when zooming in, I need to select "just two more pixels."
The dongle is the usual USB-A dongle. It's small enough to be left on the laptop at all times, but I use it on my Anker USB hub, about a meter away from the mouse.
Using the trackball
At first, it's cumbersome. You feel it isn't detailed or focused enough when aiming with the cursor to click a small button. But it's plenty fast for freewheeling desktop to desktop. It took me a few days to adjust, and now I feel the trackball is more precise than my previous mouse. I have a 32″ main display, and I often have the mouse somewhere far enough that I can flick the trackball and stop it from rolling with my thumb, and it almost always contains precisely where I need the cursor to be.
The back and forward buttons are somehow too far from my index finger, so I don't use them all that much. With the MX Master 3, I felt the button placement was much, much better. Ideally, these two buttons should be below the trackball, but perhaps the thinking here is that you'd only use your thumb with the trackball.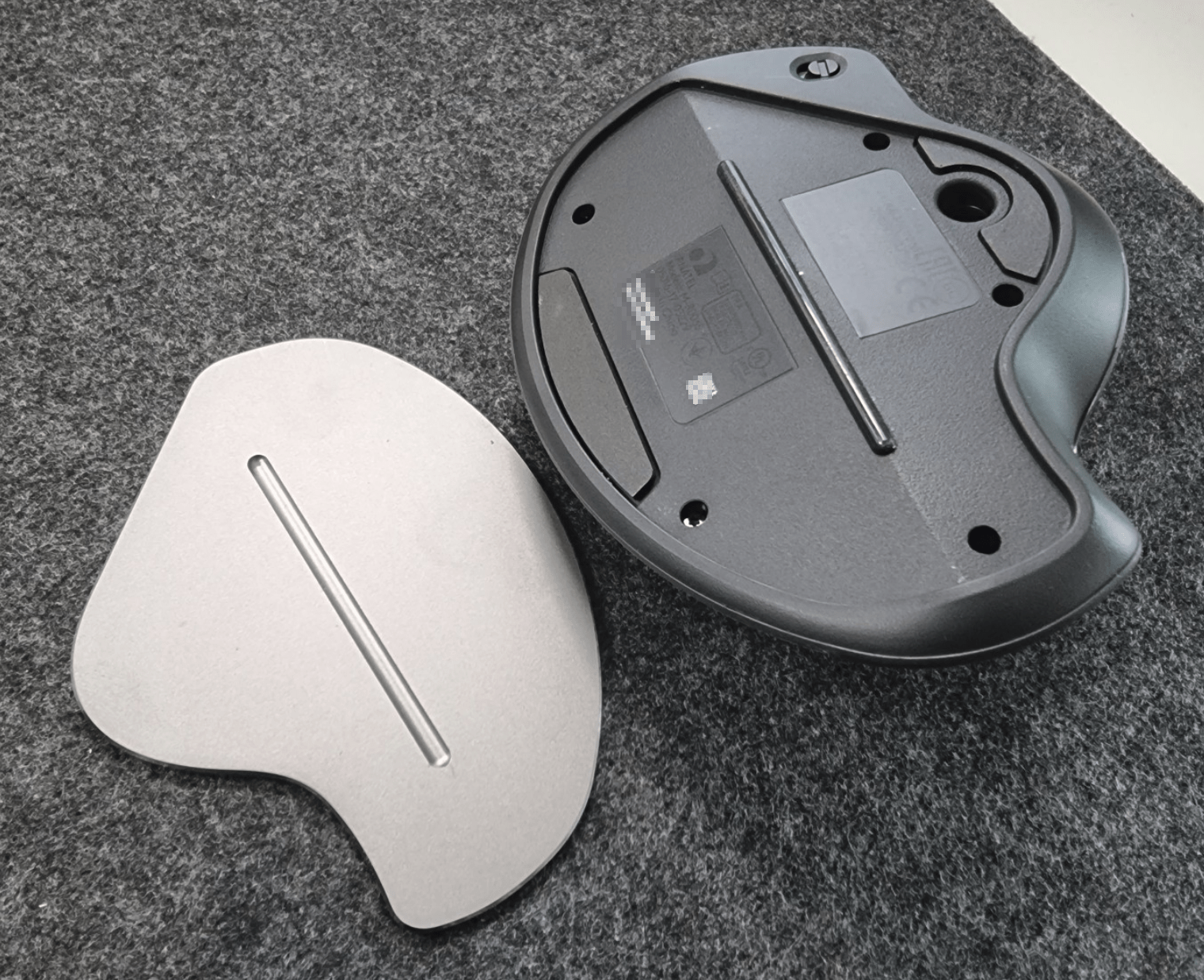 You don't need to move the device at all, and it requires much less desk space to operate with.
Drawing a semi-horizontal line with Sysinternal's ZoomIt is now practically impossible. With a regular mouse, you can mostly do a line when pointing out something in your presentations. With the trackball, it looks like I was drunk or perhaps experiencing horrible vertigo simultaneously. Let me show you – this is drawn in PowerPoint using the pencil during presentation mode with the trackball: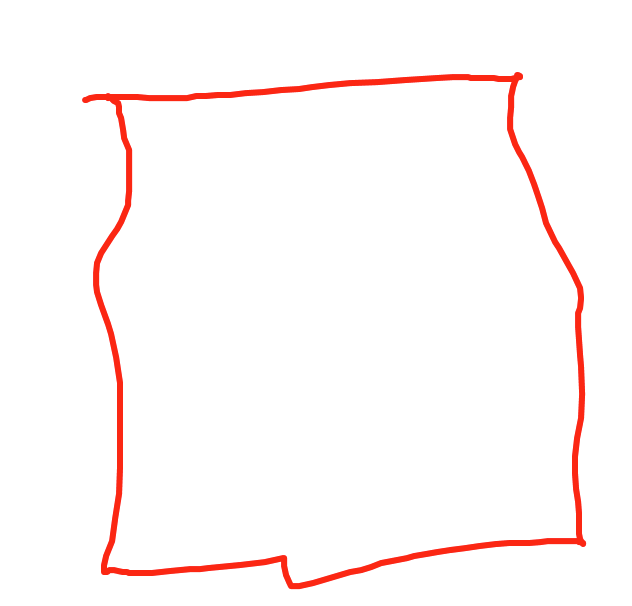 Not proud to say I'm a 44-year old tech professional when I draw a rectangle like this. Obviously, with ZoomIt, you can use the built-in capabilities, but sometimes you need a quick pen in PowerPoint, and ZoomIt isn't running. I tried this several times, and it doesn't get any better. The thumb just isn't made for creating straight lines. I guess it has to do with the trackball freewheeling unless you stop it and have it just a degree off, and the lines are drawn like above. I'm often hoping to use Shift or Ctrl on the keyboard to telegraph to the MX Ergo that I'm trying to draw a straight line, so please help me.
Does it make a difference?
I've had the device now for a few weeks. I've worked extensively from my home office during this time, delivering tens of hours of remote workshops and training while using the new mouse.
My wrist is much better now, also. Perhaps it's a slight coincidence, but I also feel I don't have to twist my arm as much as I do with a regular mouse. As the wrist and the whole arm are now more or less static, it makes me feel less tired after a long day working non-stop.
It's disappointing the USB dongle is a necessity. I tried using the mouse over Bluetooth on my Lenovo Thinkpad X1, but it's not as smooth as you would expect. Then, the dongle cannot be stored during travel anywhere. There's a faint magnet on the bottom of the mouse, but it's not strong enough to hold the dongle.
It's certainly a different experience. I find myself enjoying using it, despite some of the shortcomings. It's less taxing on the wrist and my arm overall. For most work I do, I find it's faster to work with a trackball – but specific work, such as drawing a straight line, is near impossible.
If I had to choose again, I'd still buy this – but perhaps with slightly lower expectations.