Using a DSLR as a webcam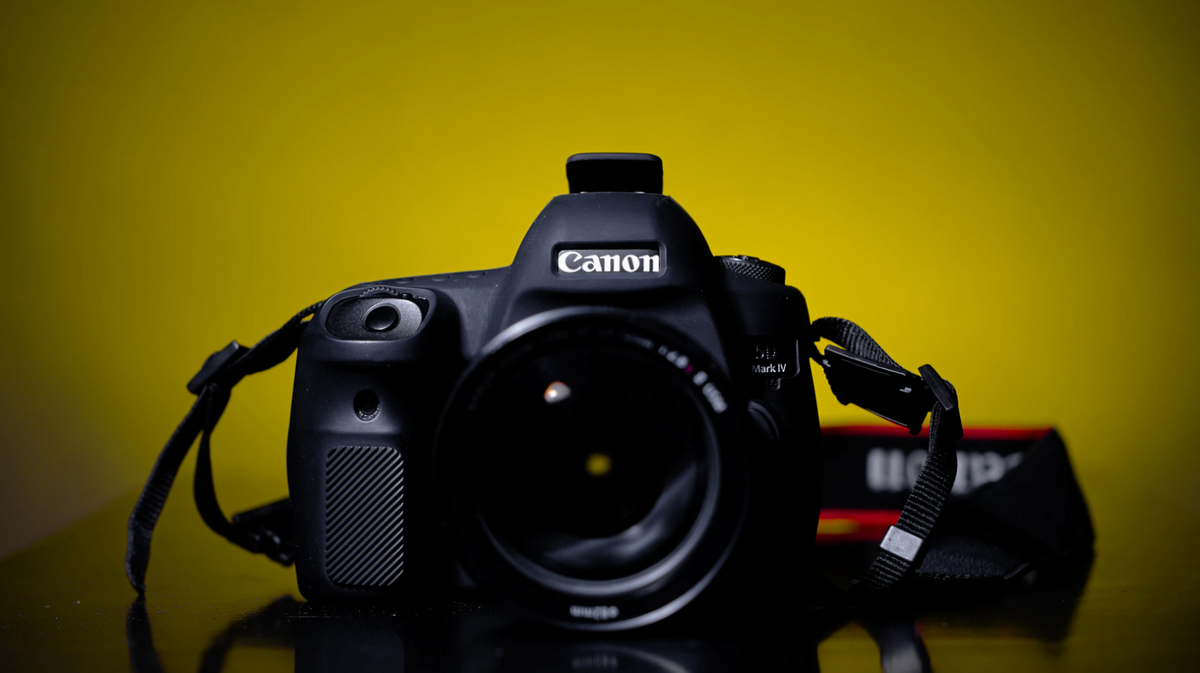 For years, I've used the Logitech BRIO 4K as my primary webcam at home. I use it for Windows Hello to unlock my PC, and I use it for each meeting. It's pretty great – but it's also just a piece of plastic with a fairly poor lens. Yet, it somehow is the very best of what's available in terms of webcams.
I've wanted to try out a real camera as my main webcam. Uncertain as to which camera would be good, a lively discussion erupted on Twitter when I asked the question: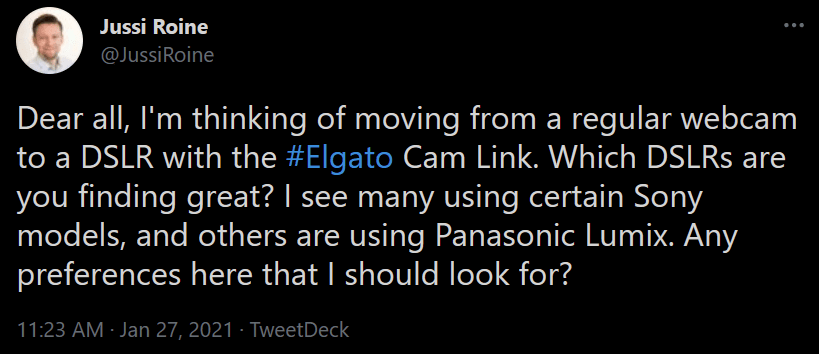 I have a few Canon lenses I'm hoping to reuse, so I settled on the Canon EOS M200 mirrorless camera: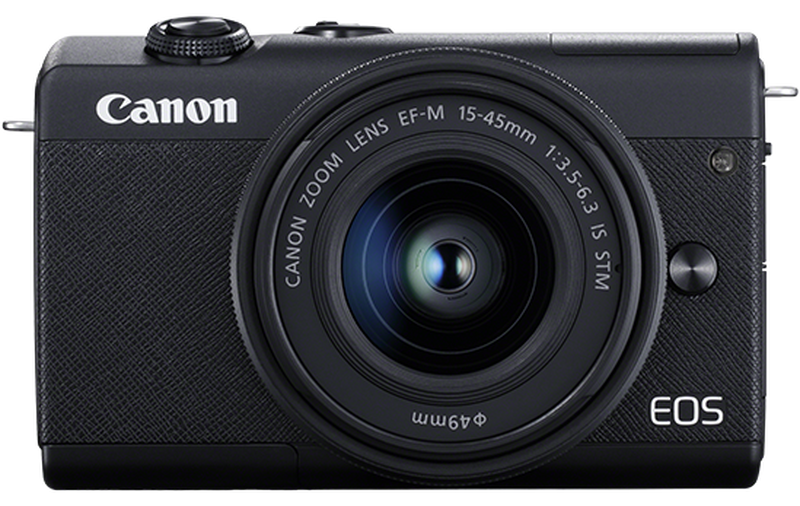 It's relatively cheap at 440 € (without taxes), and it ships with the kit lens (EF-M 15-45 IS STM). I kept checking for availability each week, but the camera was always out of stock.
This got me thinking – do I have something in my drawers I could use in the meantime? And it turns out, I had my old full-frame Canon EOS 6D just waiting to become loved again!
I guess it was a 'prosumer' camera back in 2012 when I bought it. I have the EF 24-105mm f/4L IS II USM lens for it, and while it isn't as wide as the 15-45mm, it's a great lens.
First attempt: Plug it in
"How challenging can it be," I thought. It's a digital camera, so I fished out my old HDMI-mini-HDMI cable and plugged the camera into my workstation. It really doesn't work, other than to copy files on and off the memory card.
Second attempt: Canon EOS Webcam Utility
Thankfully, Canon has released the free EOS Webcam Utility. It supports my old 6D, and the promise is that the camera is seen as a virtual camera for all major productivity software – Teams and Zoom.
After installing it, I really couldn't get it to work. It sort of works, as in I can see a virtual camera. But the video feed is cropped, and it's not clean. By clean, I mean it isn't HDMI clean. There are all sorts of viewfinder icons, autofocus points, and such passed through from the camera to the virtual camera device.
I tweaked this for quite some time. The best I could do was a cropped image, but with a face detection rectangle whenever my round head was in the frame. Someone suggested that if you turned the camera upside down, the pseudo-AI algorithm gets confuses, and it should go away. Even this didn't truly work, and having a camera upside down on the table is cumbersome.
Third attempt: The Elgato Cam Link 4K
I was about to give up and go back to waiting for the Canon EOS M200 camera. Even with that, I figured I'd probably want to offload the video feed to a hardware device. The Elgato Cam Link 4K is a fairly affordable solution – it plugs in between the camera and your computer.
It's about 100 € (again, without taxes), which is perhaps a bit much for a simple device like this – but then again, if it works, it's money well spent. So, I went and ordered that – it thankfully arrived in just two days.
Plugging in the camera via the Elgato Cam Link 4K, things started working better. The live video was no longer cropped but in full view. There was still the face detection rectangle, though. Newer Canon models allow you to disable it fully, but the older ones do not.
Fourth attempt: Magic Lantern
I'm persistent when I choose to, so I dug a little deeper and found Magic Lantern. It's a custom firmware for the camera, and while it will void the warranty, I feel that a 9-year-old camera doesn't have much warranty anymore. You can get the nightly builds here, and installation is a breeze. Once installed, the camera works exactly as before, but you can activate the custom features through the Recycle Bin button.
I was now able to remove the face detection, ensure that HDMI was clean, and video was not cropped. Perfect!
How does it look, then?
This is the first still I took from a live video feed: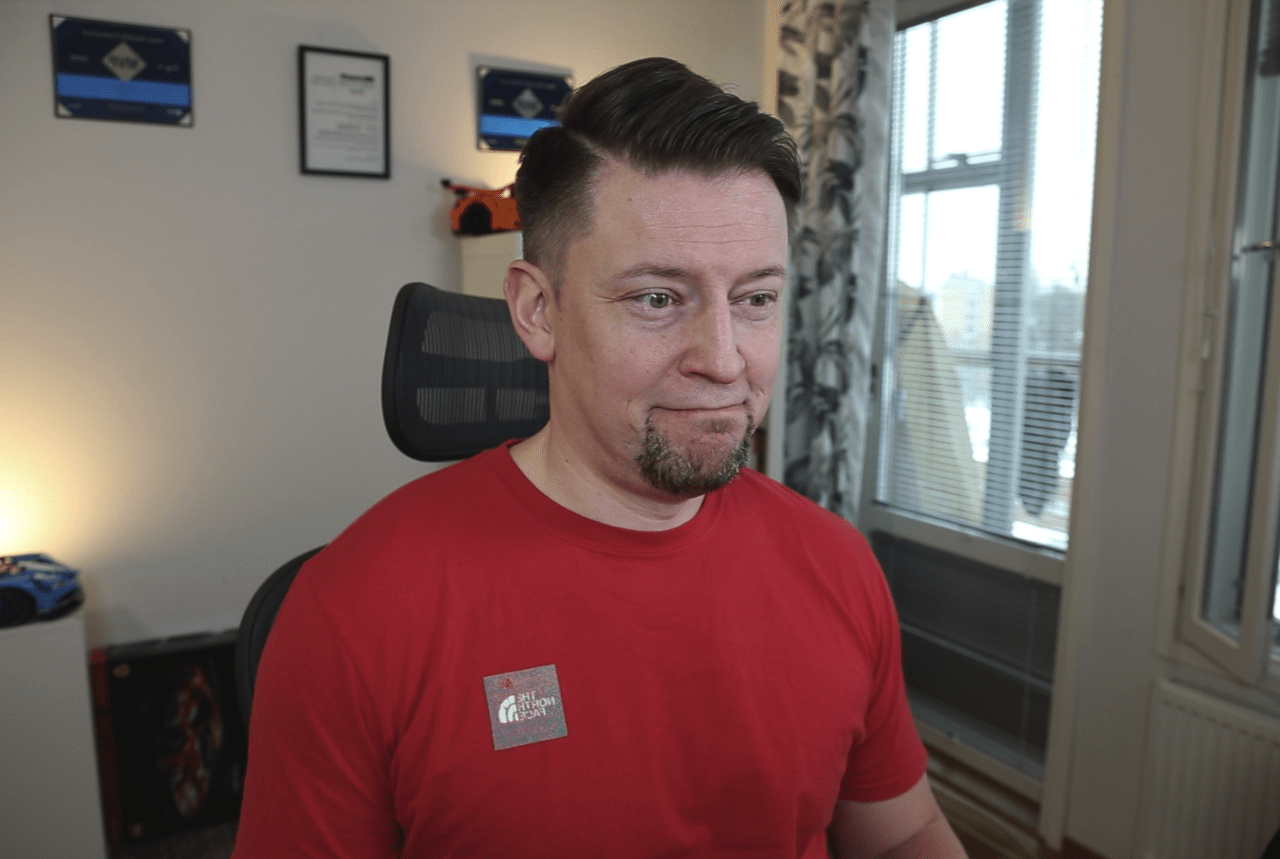 The background blurs nicely, and the colors pop while the overall picture is super crisp and sharp. Someone commented to me on Twitter that it's perhaps too sharp now.
Other issues
It's not just fun and games now. The Canon EOS 6D automatically shuts down after 1 minute. From the default EOS settings, I was able to disable this altogether, so now the camera won't automatically shut down – thus, it's my responsibility to turn it off after a meeting. Otherwise – I suspect and fear – the camera will overheat.
In addition, I still have the stock battery for the camera. It's at 89 % capacity, which is super impressive after 9 years. The camera has seen relatively little use – 5105 stills taken to date. With video on, and the LCD disabled, it will run for about an hour with the battery. For this, I need a power adapter to bypass the battery.
Third, propping the camera next to the main display requires a serious mount. The camera with the lens weighs 1450 grams (~3.2 pounds), and it needs to be fixed securely. I have a travel version of the magnificent Manfrotto tripod, so I'll start with that and upgrade from there.
I also purchased the Elgato Multi Mount System, and it's sturdy enough for the massive Canon EOS camera. Here it is, in action: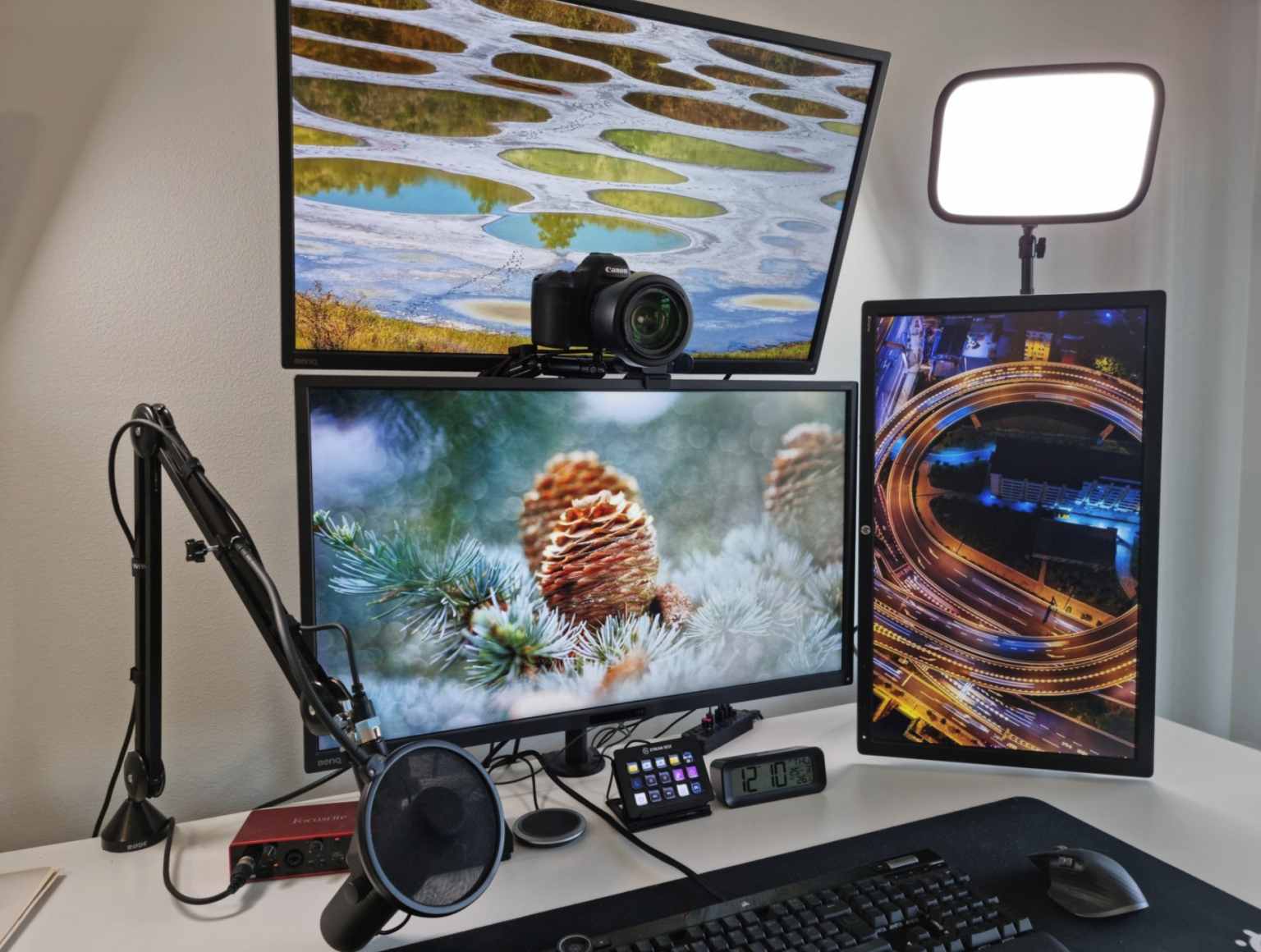 The camera blocks quite a bit of the top display, so I chose not to continue using the old DSLR camera as a webcam.
But then, the Canon EOS M200 was back in stock! So I put in an order, and received the camera the next day.
Canon EOS M200 with the Elgato Cam Link 4K
Finally, I felt that things are moving in the desired direction. I mounted the Canon EOS M200 on the Elgato Multi-Mount and connected the camera with the Elgato Cam Link 4K, which is then connected to my workstation. But I lacked the battery adapter that would feed power directly to the camera. And that was out of stock – the specific name for this device is the Canon CA-PS700: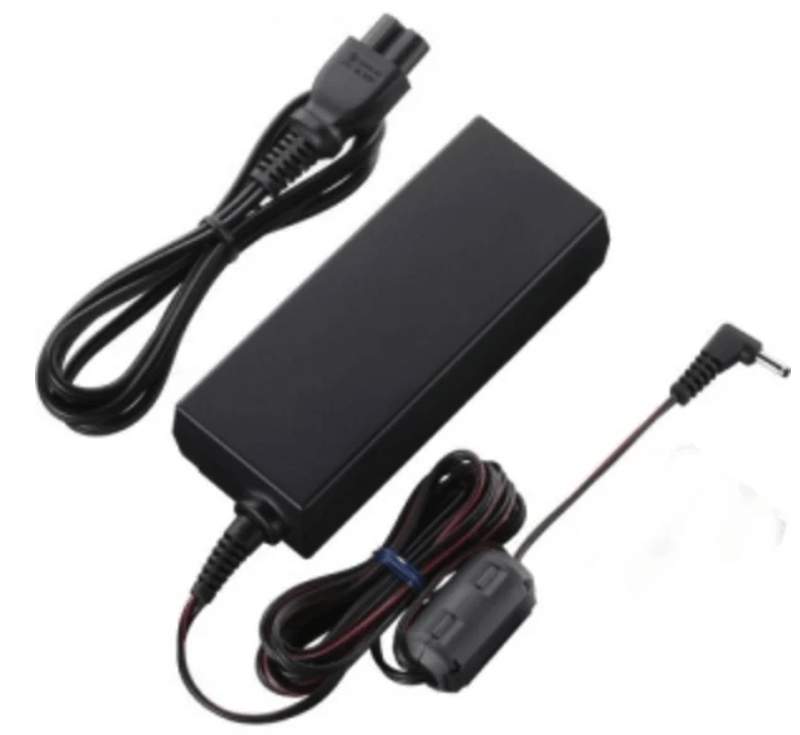 It's just $52, but it took two months to arrive. This was the missing piece in the puzzle.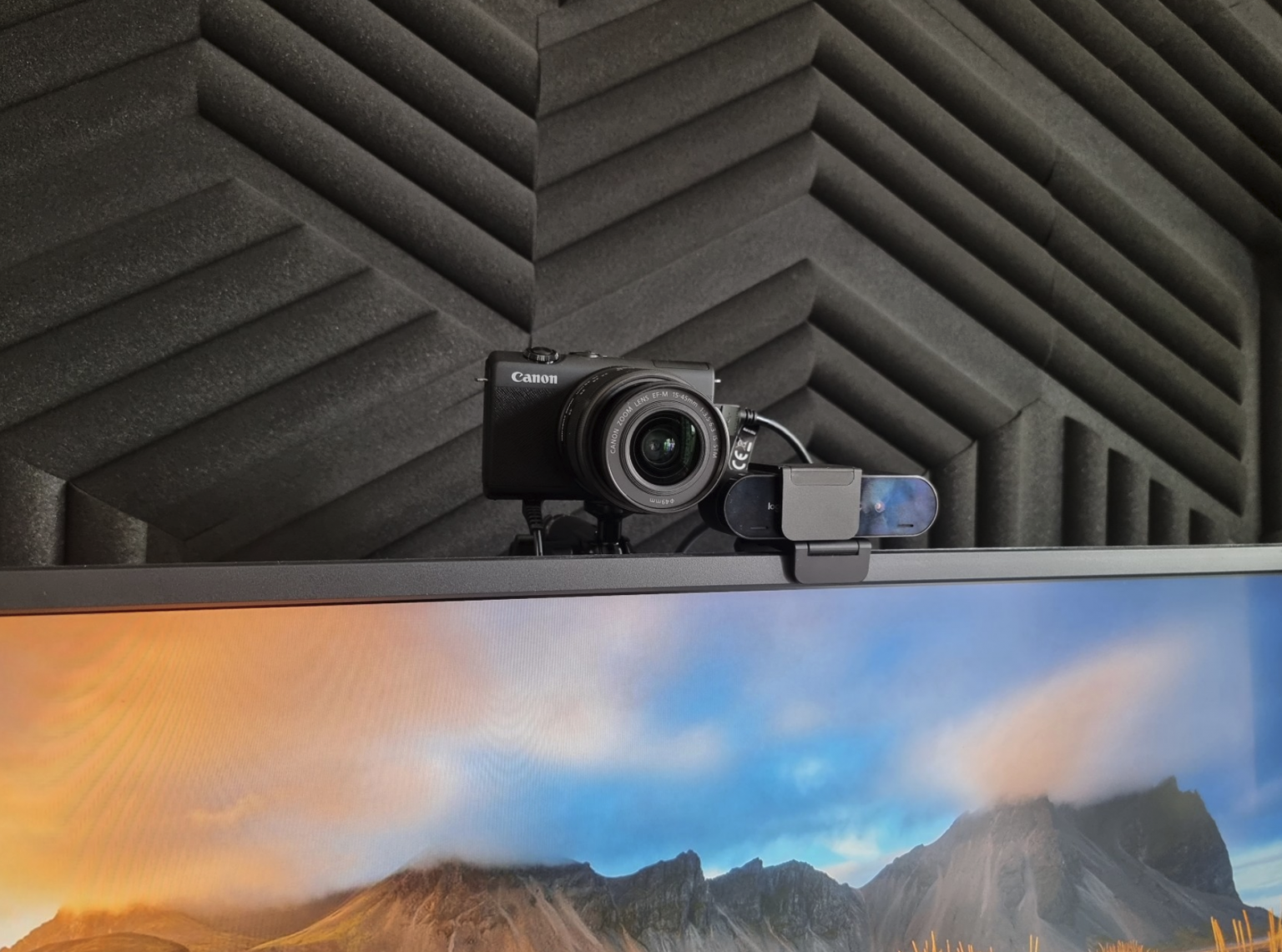 The Canon EOS M200 is lightweight enough to stay securely on the Elgato Multi-Mount. I kept the Logitech BRIO 4K for Windows Hello, and this way I can keep the Canon turned off when I'm not attending a meeting.
Teams, and even the built-in Windows Camera app recognize the Canon via the Cam Link 4K device without any issues. I can now finally retire the older Canon EOS 6D DSLR, and leave the Canon EOS M200 as a daily driver for my meetings.