Review: Ubiquiti Networks' Unifi Dream Machine Pro (UDM-Pro) in a home network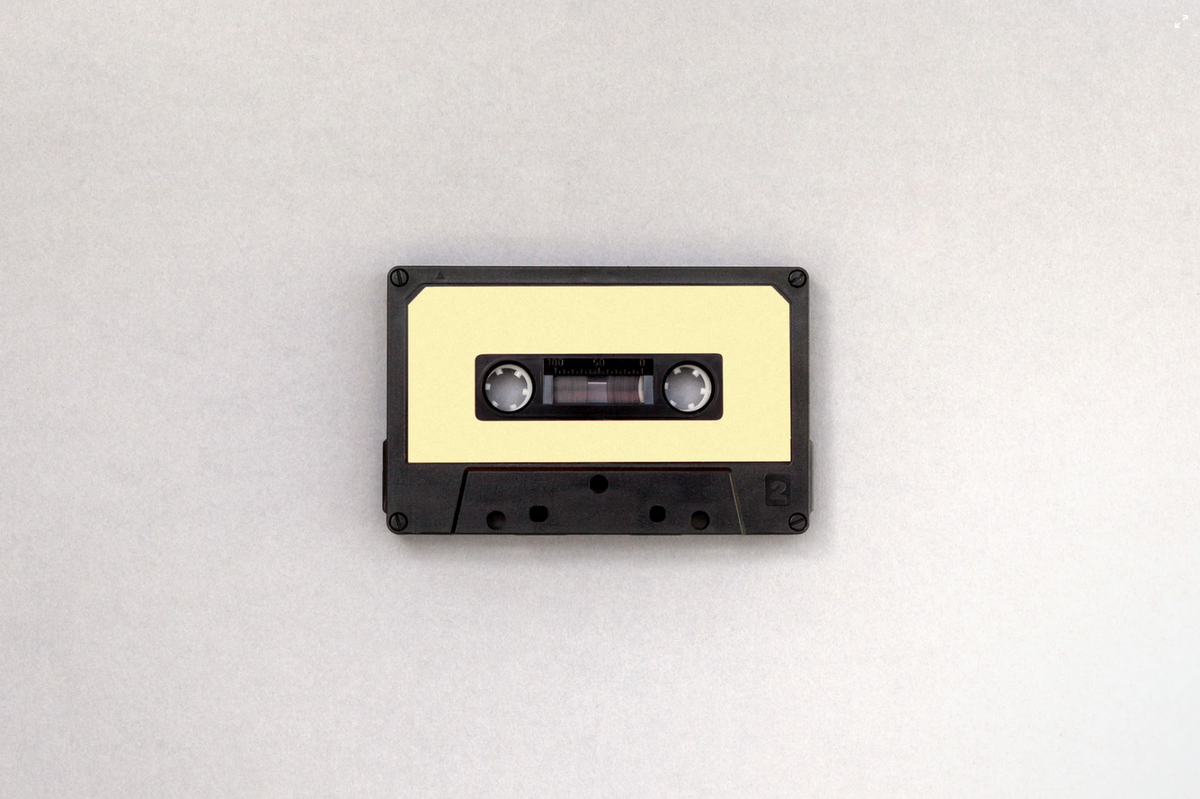 I'm building a new home network, which for me means upgrading certain hardware, and acquiring new hardware over time. The far-reaching plan is to build a solid 10 Gigabit Ethernet-based network, with guest WiFi, proper VLANs, and the ability to run containers and virtual machines how and when I need.
I recently upgraded a small portion of my network to 10 GbE, which was a nice project. As my network utilizes the UniFi line of products from Ubiquiti Networks, I need to have one device that runs the controller software. Until recently, I ran this controller software – known as a Cloud Key – in a container. It's been a solid choice. This way, I could retire my aging Cloud Key (gen 1) device, which was a bit unreliable.
When I'm now building my home network towards my future goals, I realized I would need to invest further into a more managed approach. Within the UniFi world, you can opt for the Dream Machine Pro (UDM-Pro).
It's a rack-mountable switch, that combines the UniFi controller software (thus replacing my container-based Cloud Key), the video surveillance capabilities (with external cameras), firewall, intrusion detection, a switch, and data protection. It's 1U, thus very slim and fits neatly in a rack cabinet.
As I wanted to eventually start using the UniFi Protect software for having cameras to monitor my surroundings, I knew that the UDM-Pro would be the next purchase. It's 316 € before taxes, and without a 3.5″ HDD that is needed to record your camera feeds. I got a 12 TB Seagate drive for that.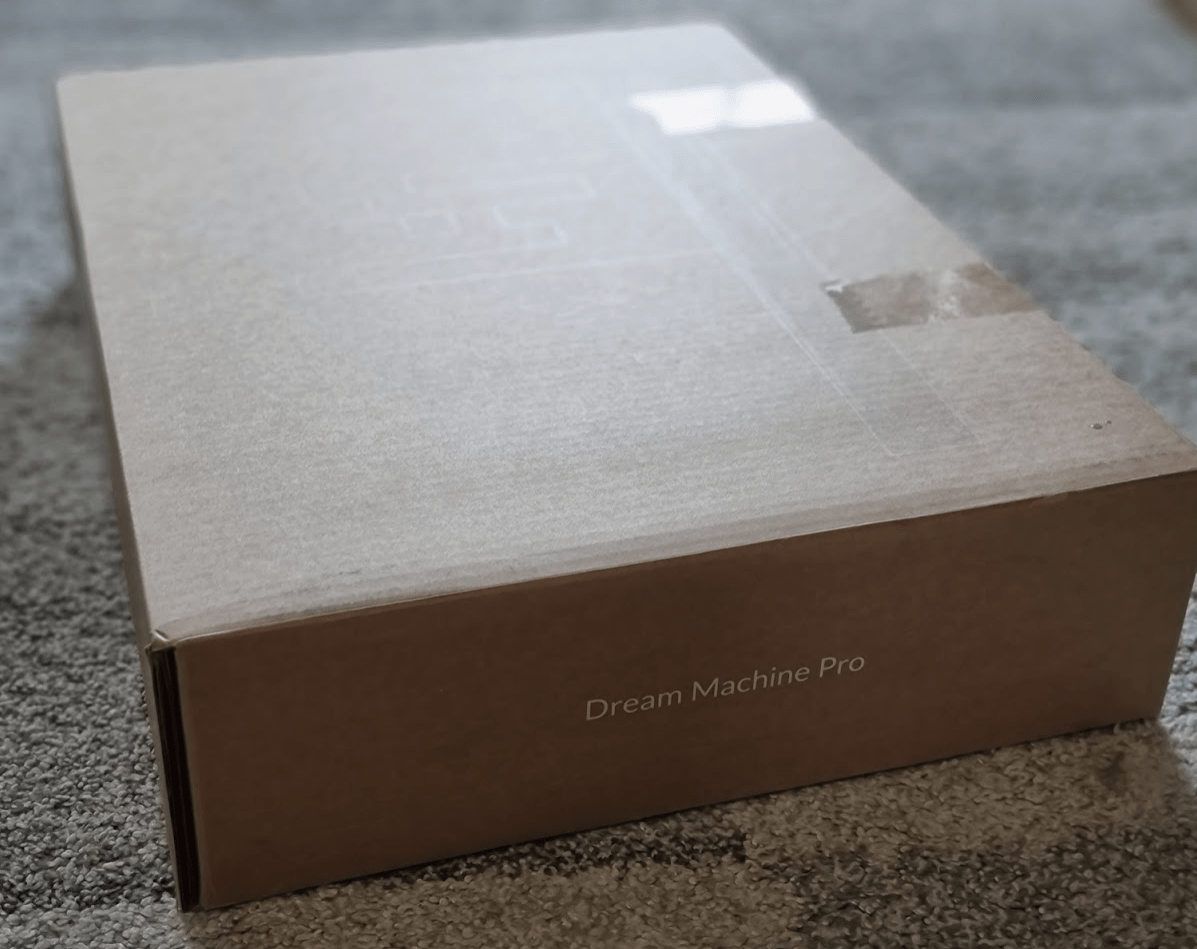 Setup was very easy. Plug it in, and use a mobile app to adopt and configure it within the network. Once added, you can login through https://ui.unifi.com using the SSO account for all UniFi gear.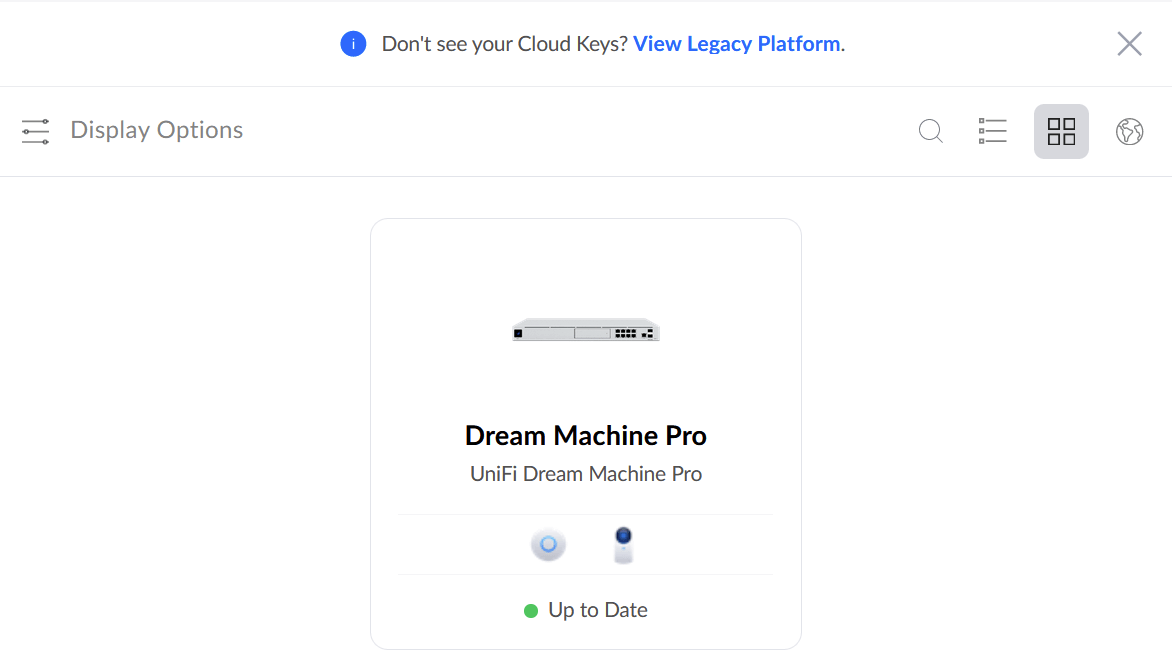 Once you log in, you can choose the capability to manage – the network, Protect (for the cameras and feeds), Access (for secure locks and access), or Talk (for the VoIP solution). I don't have the last two – mostly because Finland is a country of Abloy locks – switching to another system would be too costly and cumbersome.
UniFi is currently in a state of upgrades. The admin interfaces can either be accessed with a legacy interface, or the new interface. But the new interface doesn't allow you to do all the things the legacy interface allows.
This is the new interface – and it looks and feels very nice: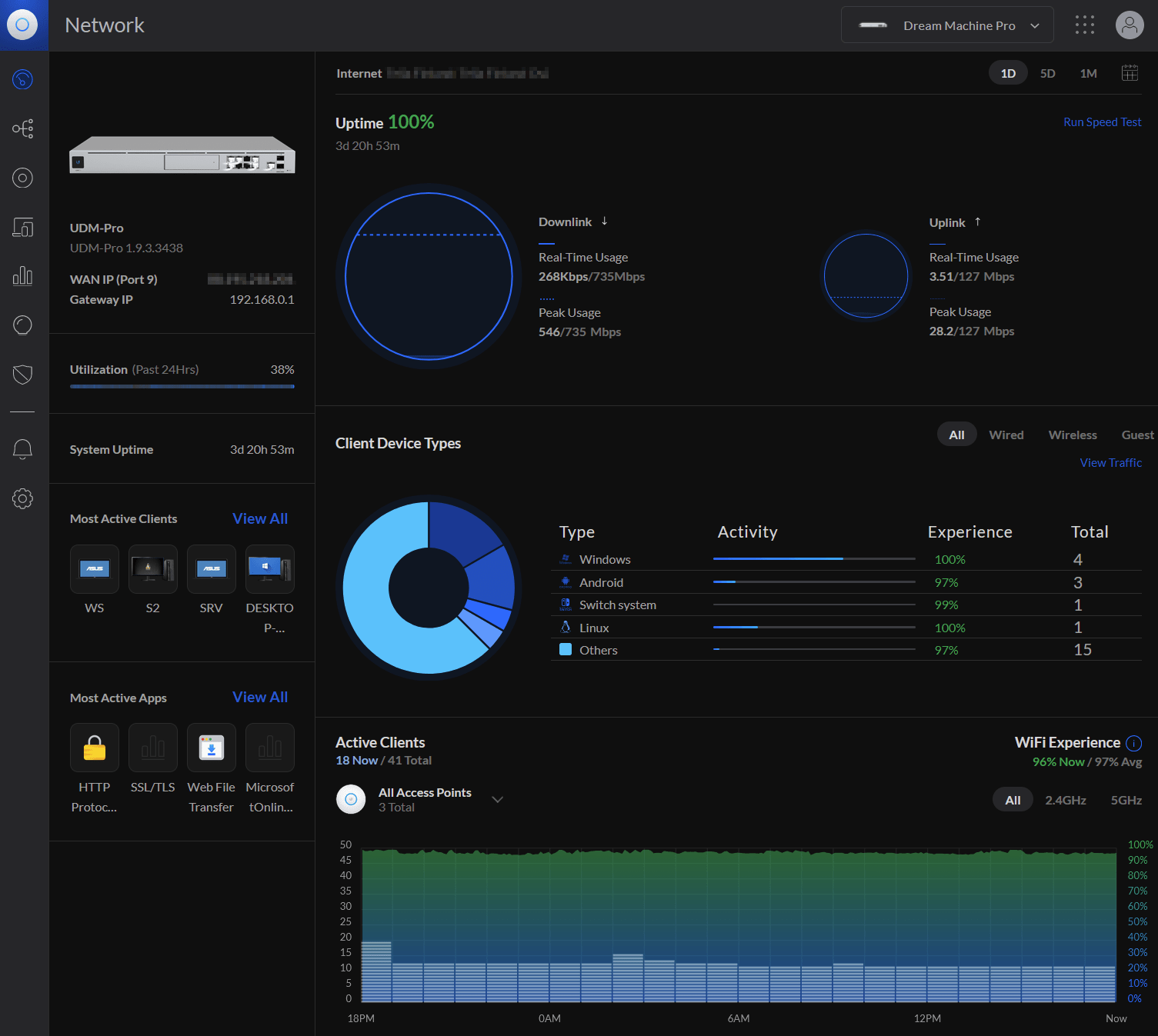 I like the tiny detail in the upper left corner, that shows which ports of the UDM-Pro switch are in use. Useful? No, but a nice little touch.
UniFi automatically creates a topology map of all the devices it sees within the network. It's useful for verifying that things are connected to the right ports. I currently have a few smaller UniFi managed switches, and they all route via the UDM-Pro now. It then acts as my main firewall between WAN and LAN and handles remote connections to my home network.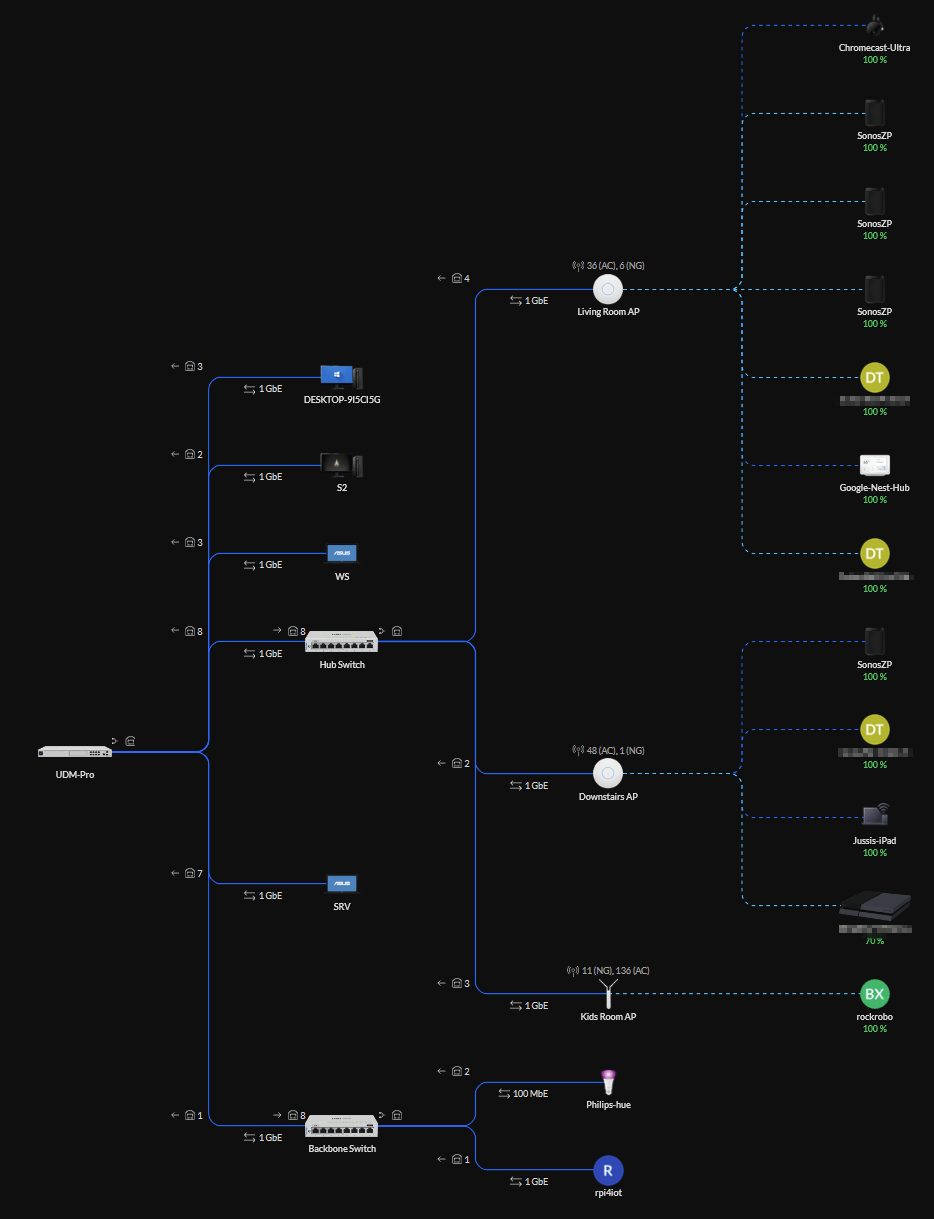 For fun, I enabled the built-in intrusion detection engine. I couldn't use this previously, as the aging firewall from UniFi I had didn't have enough performance without cutting drastically into my bandwidth.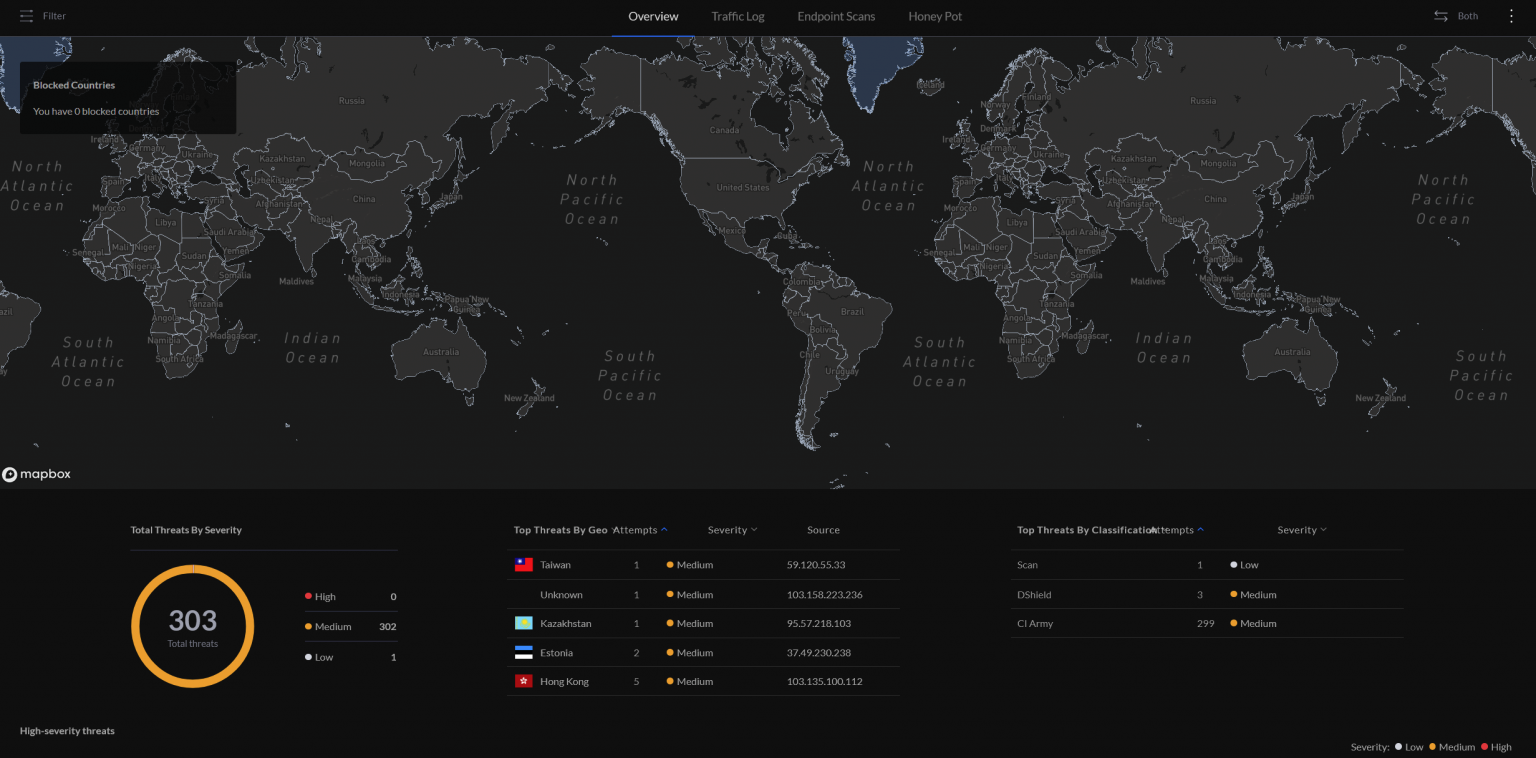 I'm not entirely sure how useful this is. Perhaps combining this with Microsoft Defender and Azure Defender would provide some useful scenarios. Still, for now, it's mostly a lightweight approach to doing "something" to protect your network beyond a regular firewall.
I've mounted the UDM-Pro in my 18U rack cabinet. So far, it looks very empty but one has to start with something.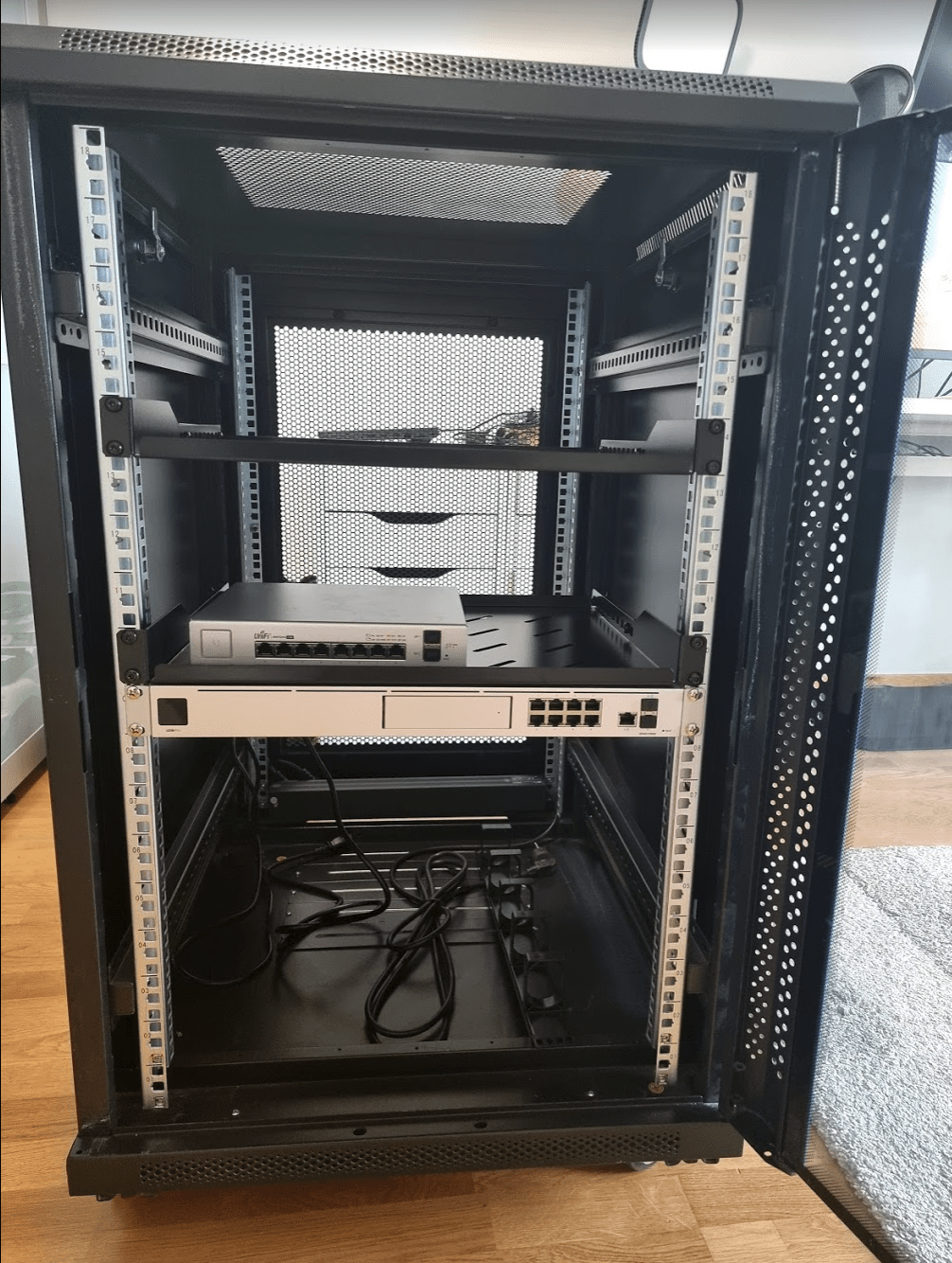 The UDM-Pro has a small 1.3″ touch display on the left side. It can be used to quickly check general settings of the device, but also to force a reboot, shutdown or a firmware upgrade. Handy!
So far, I am pleased with the device. Admittedly, I'm not utliizing most of the enterprise capabilities in my small home network/homelab at the moment. I realize Ubiquiti has had challenges in recent months – yet, for the fairly affordable price I feel it's a solid piece of hardware. Especially now that the system seems very stable.
Is it a necessity? No, not really. You can achieve most of the same things with the $199 Cloud Key Gen 2, but then you'd also need a switch. And a server to host your video files, as the Cloud Key is quite light on storage. I like that the UDM-Pro is unified, rack-mountable, and allows you to configure it once and forget it then. For that, I feel the price is very much aligned.