Thoughts from beta certification exam 70-339: Managing SharePoint 2016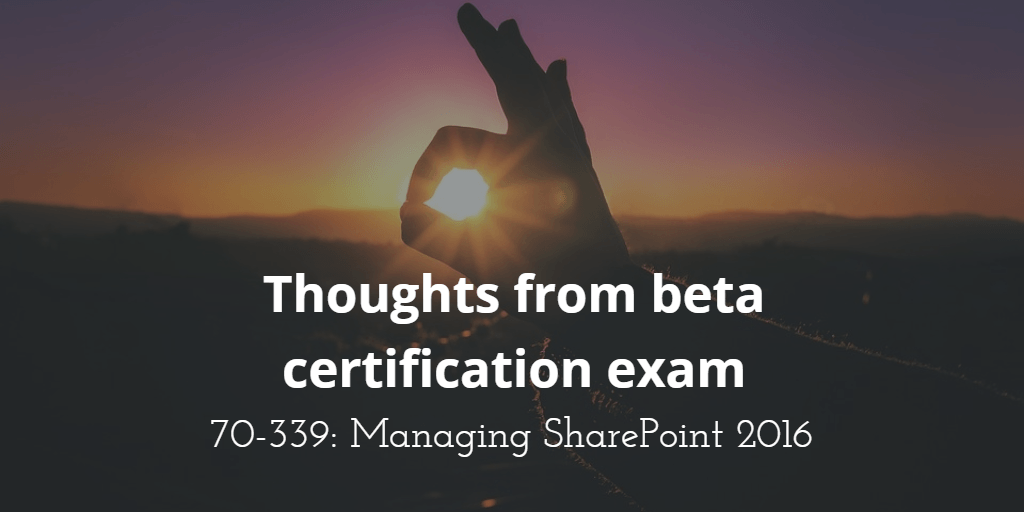 I've been waiting for the first IT Pro exam on Microsoft SharePoint Server 2016 to become available – the 70-339 Managing SharePoint 2016. I might have missed the beta announcement, but I noticed from Pearson VUE, that you are able to book the exam before the official release date of June 23rd. Without really having time to prepare I took the exam today (20th of June), after a huge cup of coffee. Studies possibly show that adequate levels of caffeine might boost your short-term memory.
I cannot go into details on the questions themselves, so here are some initial thoughts after completing the beta exam. I don't know yet if I passed or not, but I have a fairly good feeling. It took me a little over an hour to complete all 50 or so questions.
About 1/4th of the questions were case studies, which are a bit problematic in my opinion. The issue stems from the fact that most case studies are too vague and open on exact information, but questions are aimed at exact issues. A typical example (not from 70-339) would be a question about "What is the best and cheapest approach for backup?" while the case study vaguely might mention that "backups would be nice". The options could include all things Azure, most things on-premises backup solutions and System Center DPM. So they are all good and viable options, but there is no hinting what is preferred.
Rest of the questions were multiple choice and drag'n'drop questions. This time most of the questions were direct and clear. Unfortunately part of these questions allow only one answer and you cannot later go back and revisit your answers – so essentially the answers are locked after clicking Next.
I felt the certification exam was pretty truthful to the initial requirements, but many questions reflected the old times, such as hybrid search without cloud hybrid search. While SharePoint hasn't really progressed that aggressively, I wish exam writers wouldn't resort to just browding MSDN for "the hard questions", as there rarely reflect the real world.