Working from home: Using a standing desk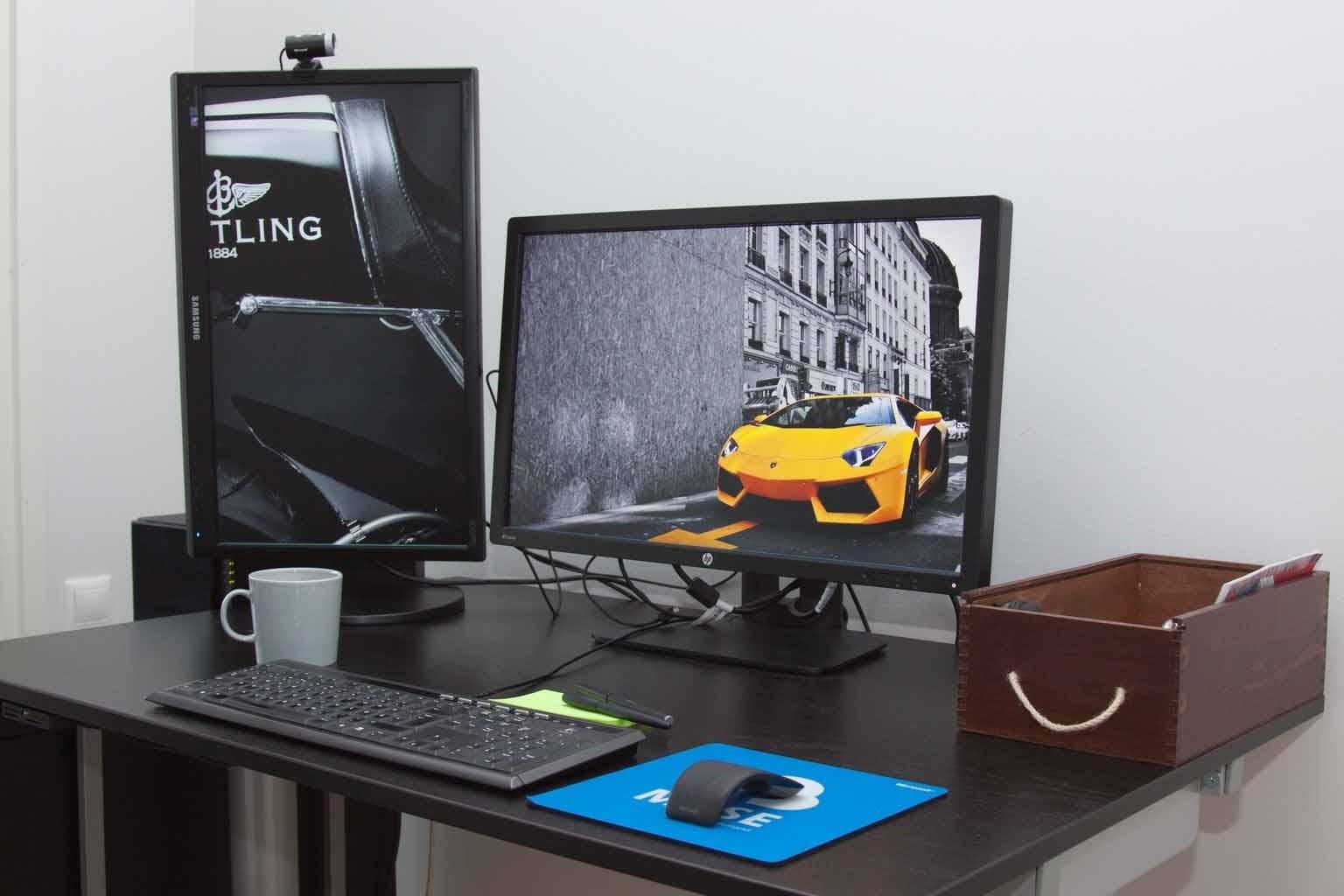 In Spring 2013, I decided to start working more often from home consciously. One of the reasons for this was – obviously – the open office, which I felt was a productivity blocker for me.
My commute isn't that bad after we moved our office to the heart of Helsinki, Finland. Typically it takes me anywhere between 12 to 20 minutes on public transport. Just long enough to be slightly irritating and just short enough not to have time to read up on those articles I've meant to read.
The pattern
So, after working remotely for about 6 months, a pattern emerged: I'd typically work with clients either from home or on-site from Mondays to Wednesdays. Thursdays I'd reserve for writing, calls, and catching up, and Fridays were office days. Working from home doesn't mean you should never be at the office, but you should make a conscious and deliberate effort to visit the office, at least once a week.
So that people remember you still exist.
My desktop setup – last year – was quite simple. A "real" workstation with 3 displays, each 24" at Full HD resolution. One in a pivot, others in desktop angle. I would occasionally work for hours without a break. That's how much I enjoyed being in the flow and having an uninterrupted way to work through whatever I needed to work on.
I often felt the "more displays == better, faster, stronger" mantra wasn't really working for me.
I would often find myself hunting a window on my desktop or arranging windows for my needs. Having used OS X on the side, I was really missing something more powerful to manage my workflow.
The IKEA solution
I then decided to give a try to work while standing. I had been eyeing the options for a standing or adjustable desk and eventually purchased the IKEA Galant Standing Desk, which at 549 € ($762) is certainly not what I'd call "IKEA cheap." The desk's availability is also in short demand, and I had to wait for the desk for a few weeks.
Due to space constraints at home, I chose the smaller model, where the size of the table is only 120 * 80 centimeters. Height can be adjusted between 68 cm (minimum) to 123 cm (maximum).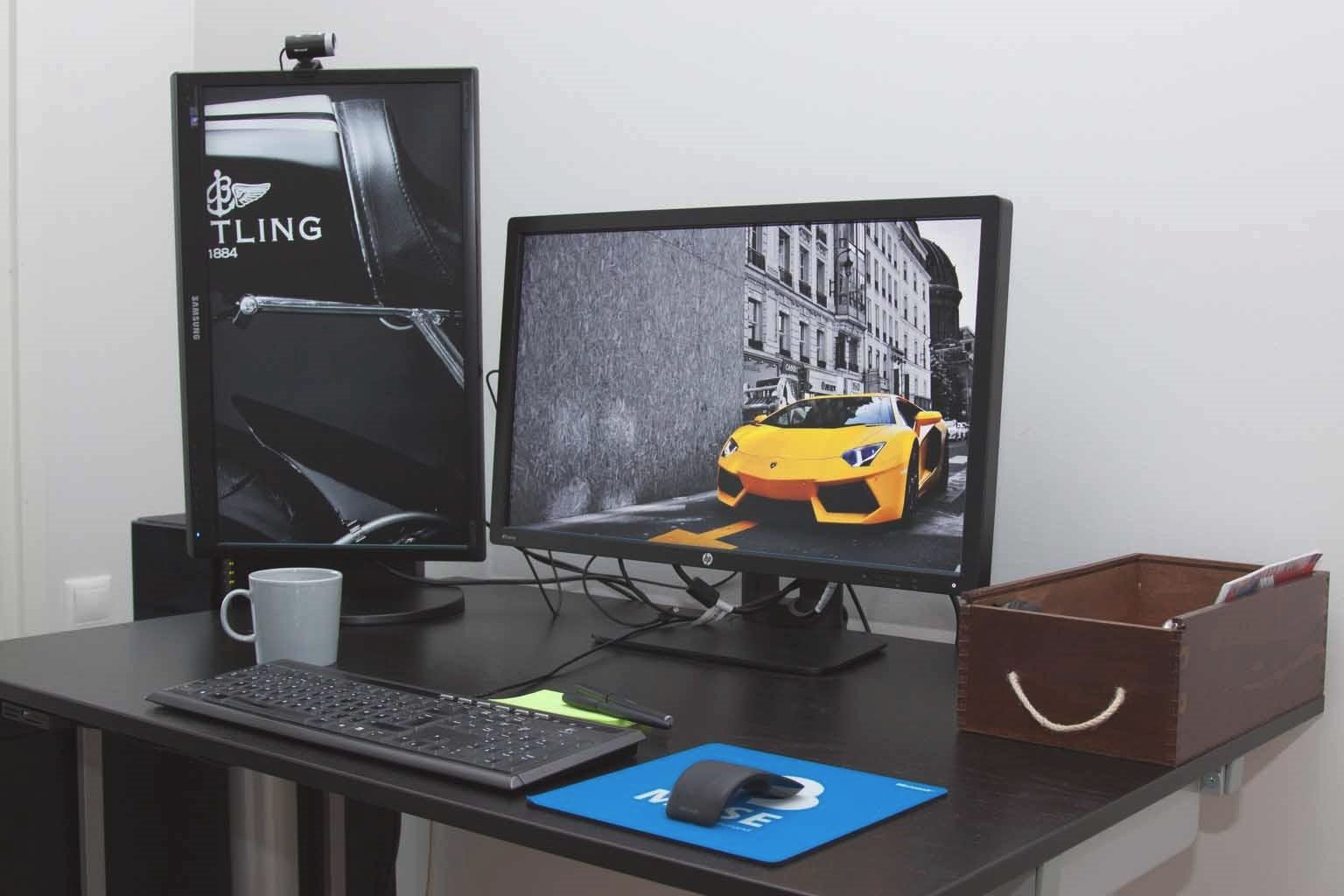 It took almost two weeks to get used to working without finding a chair to sit on. I would start by reading up on email and social networks for about an hour before my back or legs would remind me to sit down. After two weeks, I was able to do half-day, and after a month, I would easily do a full day or about 8 hours without sitting.

To arrange cables, I bought the Signum cable management (from IKEA), and as an extension, I went with the Summera workstation holder. It's ugly, but at $19,99, I'm not really complaining since it's mostly out of sight and seems sturdy enough.
Up or down?
The desk can be adjusted electrically. I typically keep the desk in an upright position and only lower it when I feel I really want to – or need to – sit down. Even then, it's all too easy to leave the desk at a comfortable "I'll just sit here and slouch"-position, so I keep reminding me to go back up whenever I feel too comfortable.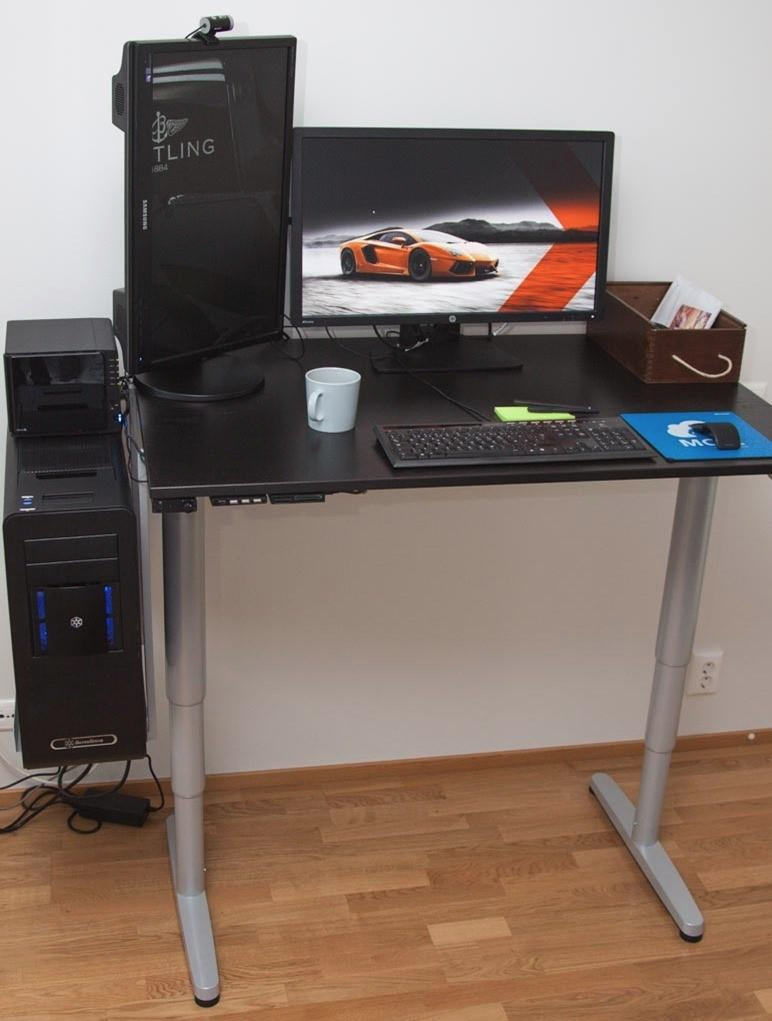 The goal isn't really to keep finding your limits by standing all the long in agony. For me, it's really about minding the fact that after 20-odd years in IT, I've still got about 40 years to go (or so I hope). And if this small investment helps me in the long run, then it's definitely worth it.
Has it been worth it?
After a couple of months, I'm pleased with the solution. Granted, the cabling could be neater, and I could use more space on the desk. Given the limited space and my conscious effort to work reasonable hours, the desk has been worth every penny.