Review: Sennheiser Sport True Wireless earbuds for the gym enthusiast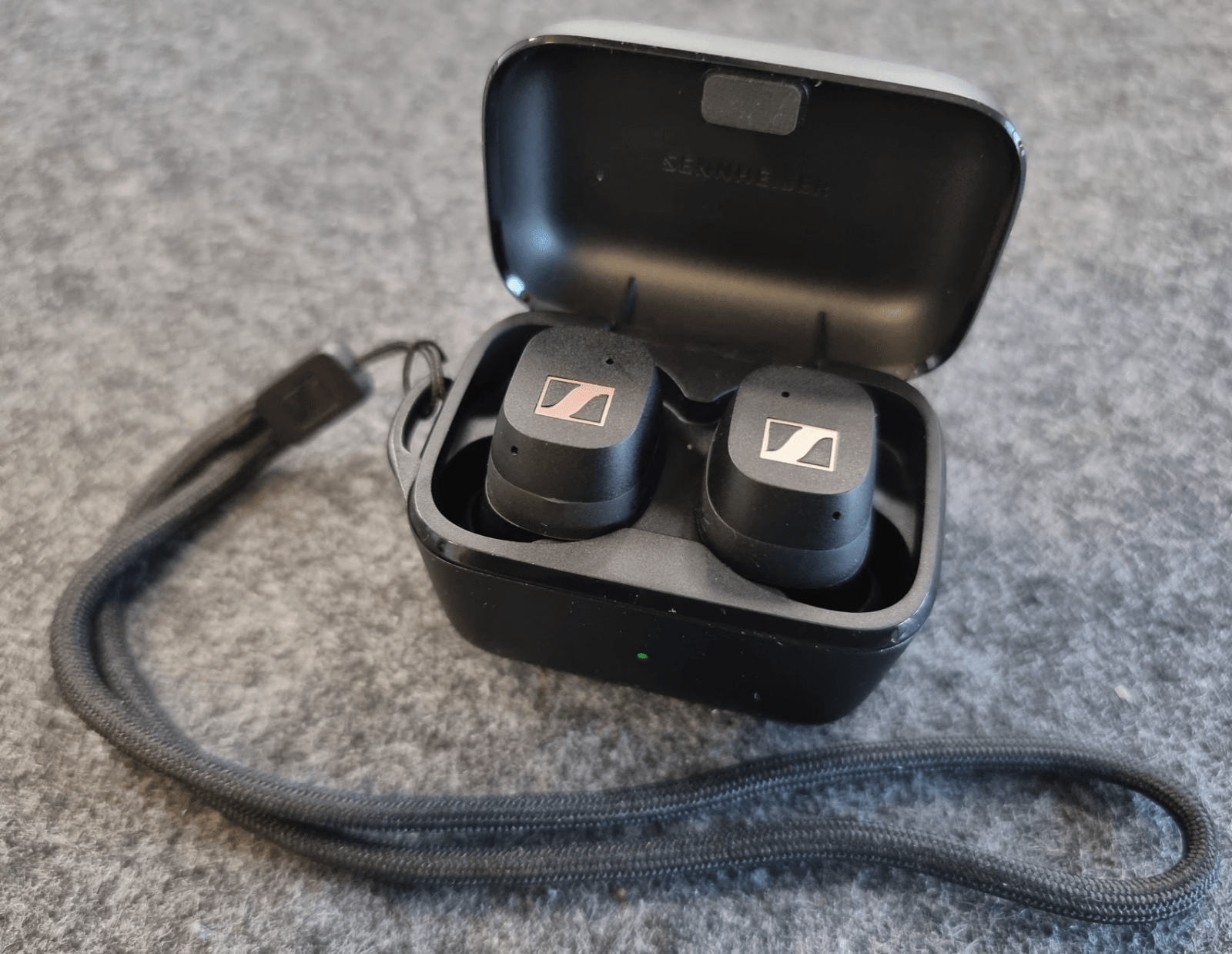 In recent years, I've used the Samsung Galaxy-branded earbuds reasonably actively. The latest incarnation, the Samsung Galaxy Buds Pro, has been excellent. The audio quality is crisp, the battery life is more than enough, and they pair and connect without a hitch. I accidentally had them in the laundry doing 1400 rpm washing and drying – and they still work!
But, where they do not excel in, is sports. The buds will fly off tangentially when taking off my hoodie after warmup at the gym. Or, when pushing inhumanly hard during bench press, one of the buds will fall off. They are perhaps designed more for an active lifestyle, implying sitting in a café, and less so for actually doing sports.
I've been reviewing and searching for better earbuds to use while at the gym. I rarely – never – need earbuds for anything other than a bit of music from Spotify for sports. I usually sit at home with proper headsets and speakers for actual calls and meetings. I've thus found many possible candidates to get, but they don't tick all the boxes.
For features and capabilities, I've listed the following must-haves:
USB-C charging on the case. No exceptions to this.
Design that is aimed to keep the buds in place – silicon fly-tips or something similar
Wireless charging is a neat little nice-to-have but not needed
Proper audio quality – this is highly subjective, but at least appropriate audio codecs such as aptX supported
Ability to do phone calls, i.e., multiple mics
Multipoint for pairing it with multiple devices (phone, laptop, tablet)
Some angle towards sports – IP-rating for splashes and sweat, or something similar
I couldn't find anything decent with these specifications. Often USB-C was missing, or the only supported audio codec was a standard from 2005. The few premium ones, such as the ones from Sony, looked decent, but most reviews complained about pairing problems or the bulky design.
The Sennheiser Sport True Wireless
Finally, Sennheiser announced their new Sport True Wireless earbuds. Somehow the price was also below what I was expecting. Premium or at least semi-good buds cost close to 200 €, or even more. The new model from Sennheiser's are just 104 € before taxes.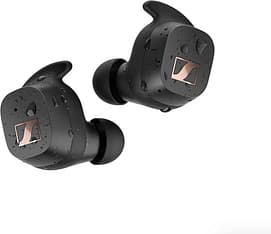 These were announced in late April, so I put in an order before reading any reviews. Why? Well, the price was half of what I was expecting to pay, and I also figured Sennheiser had been long enough in the audio business that they would produce a quality product.
The capabilities include support for Bluetooth 5.2, aptX (and AAC and SBC) codecs, about 9-hour run-time plus an extra 18 hours in the case, IP54 certification, USB-C, and closed and open adapters for the ear canal. It ticks all the boxes! Except multipoint. Sennheiser is working on something, and I know better than not to buy a product based on future promises, but this was one exception I was willing to make. I might regret this later.
Initial feeling and experience
After ordering the buds, they took a few weeks to arrive. I ended up paying 129 € with taxes for a pair. Tearing open the package, I noticed that six different-sized adapters were provided on the buds with the case. Half of these are for the open setup, and the rest are for closed. Effectively, the closed option brings in passive noise cancellation.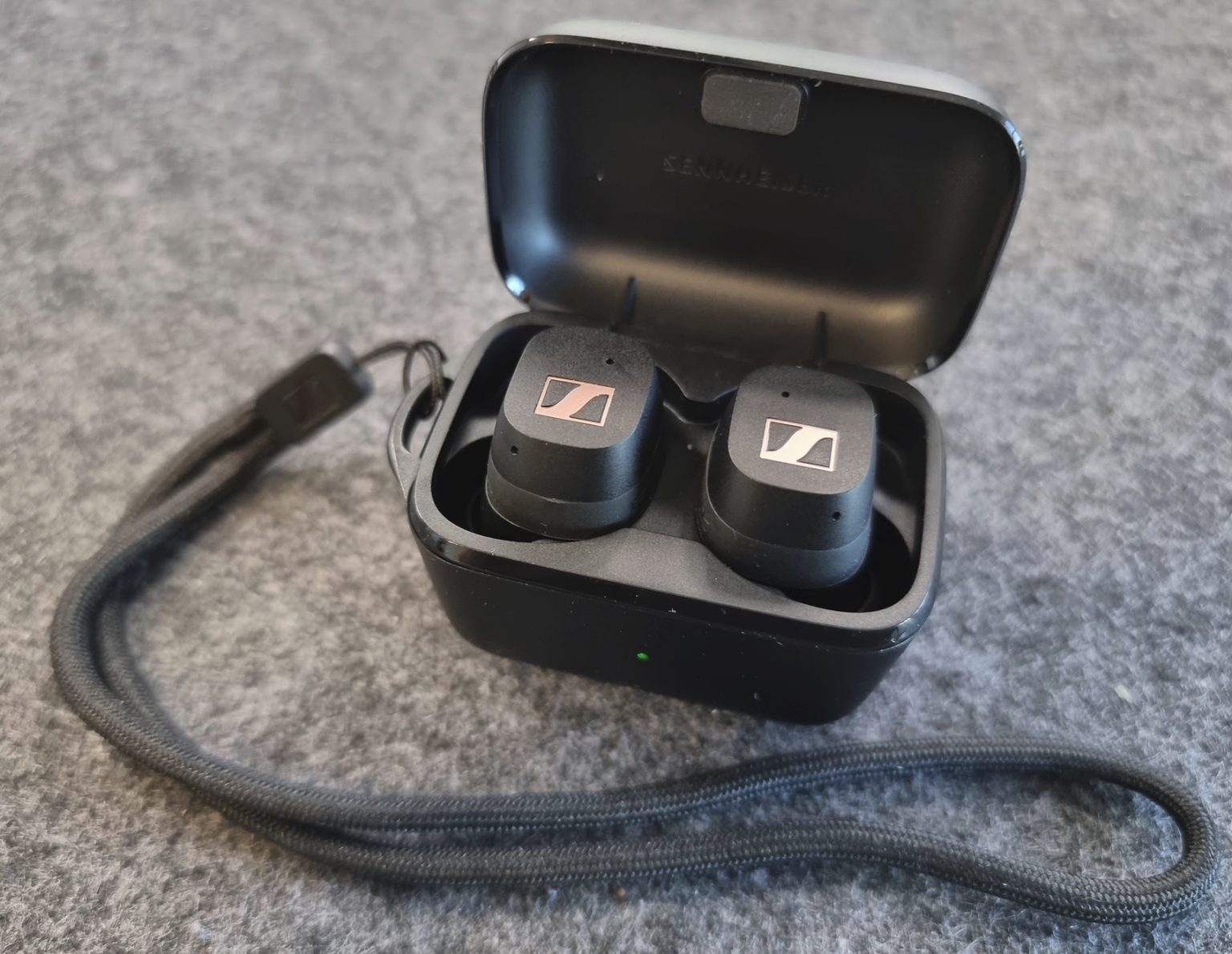 I charged the buds full before trying them out. To use these, you need the Sennheiser Smart Control app. Once paired, you can tweak the few settings easily. One of the problems is with pairing, as the buds do not support multiple devices. So to switch from the tab to the phone, I first have to open the app in the tab, remove the pairing, and then re-pair to my phone. And each time, the buds have to be connected to a specific device. This is a bit tedious. I certainly hope multipoint arrive in a future update.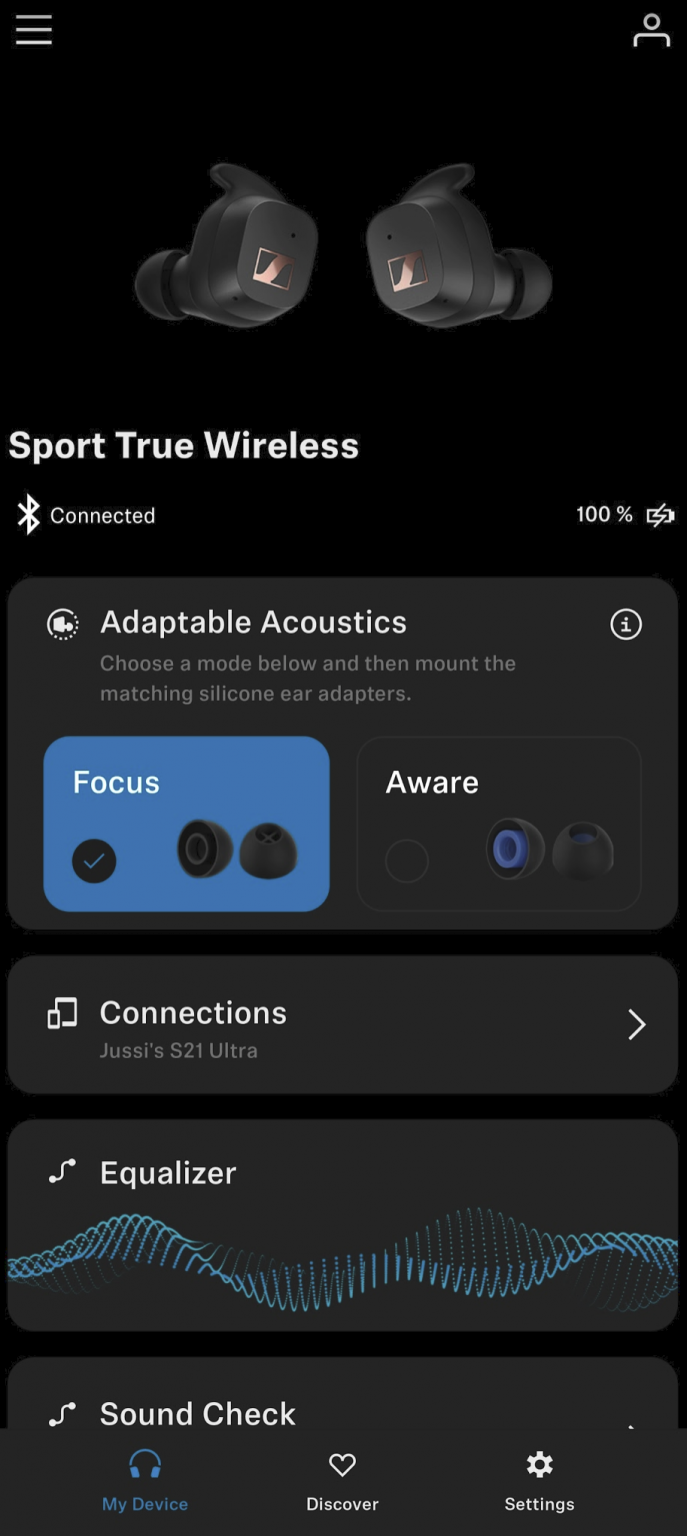 Overall, the app is smooth and works as you'd expect.
The sound quality is on par with the Samsung Galaxy Buds Pro. It's clear and dynamic enough (for earbuds, anyway), and you can make out the details in good quality streaming.
Both buds have a rubber or silicone tip, which you can easily change. I'm slightly worried about how long these will last, as the rubber is about 1 mm in width and quite elastic. I also worry that the plastic of the buds is not smooth as you'd expect, but more rigid plastic should you not have these little rubber pieces in place. A bit like wearing a LEGO block on your ear, I'd describe the feeling without the rubber bands.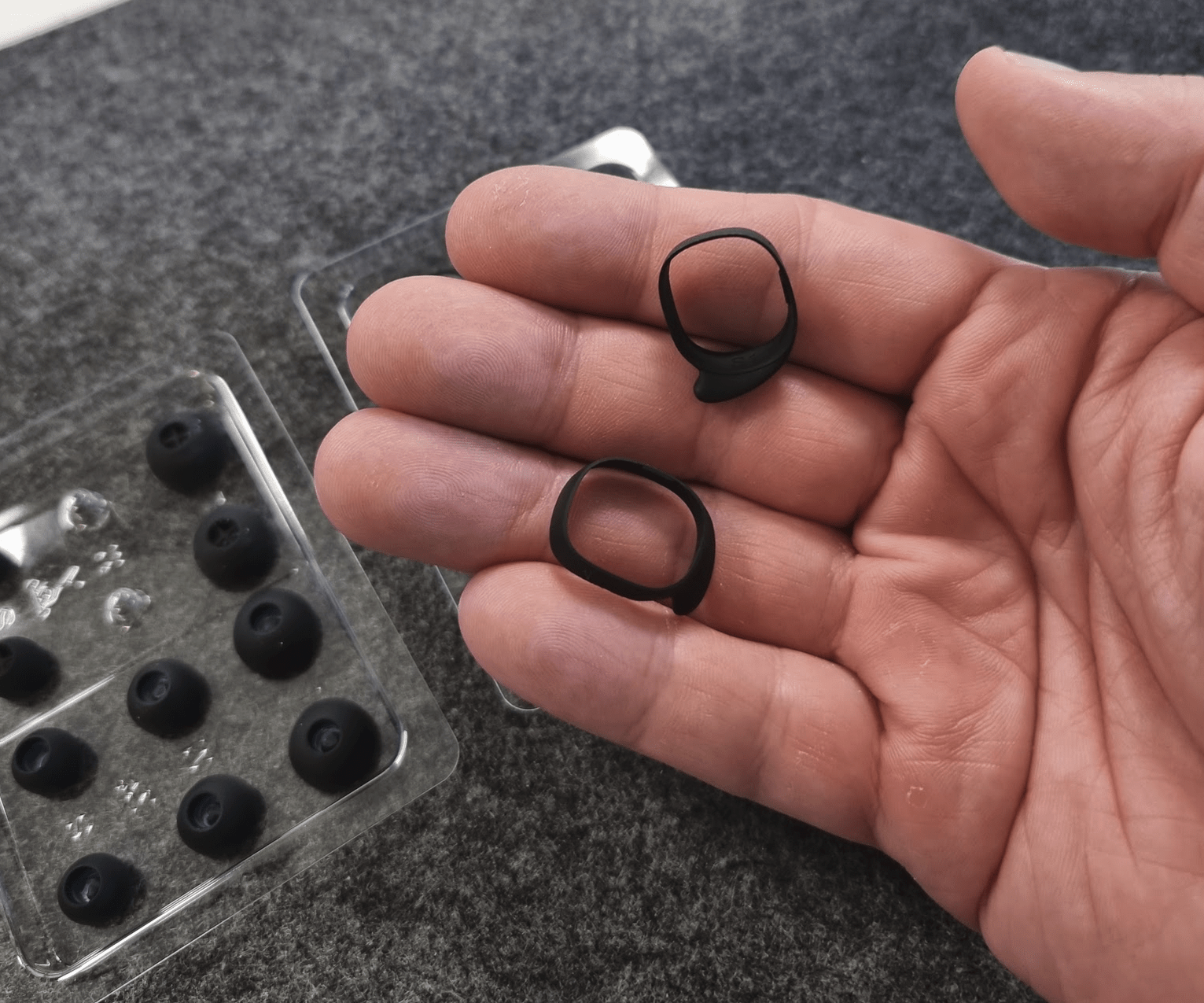 Once you get the proper size for the tip, the buds mostly disappear in your ear, and there is zero friction. They are also held firmly in place against the tragus of your ear. It's a good approach, but the Bose wingtips are vastly superior.
I did a few gym workouts and didn't need to adjust the buds. I'd be constantly fiddling with the buds during rest periods with the previous Galaxy Buds. The audio is excellent, and they worked reliably.
In summary
Are they good? Yes, yes, they are. Could they be better? Yes, yes, they could. The plastic of the case and the plastic of the buds feel cheaper than you'd expect. The case is also shaped like a little treasure chest, and it doesn't fit with any pockets neatly. It lacks the satisfying premium-feeling overall – but then again, you pay about 50% less.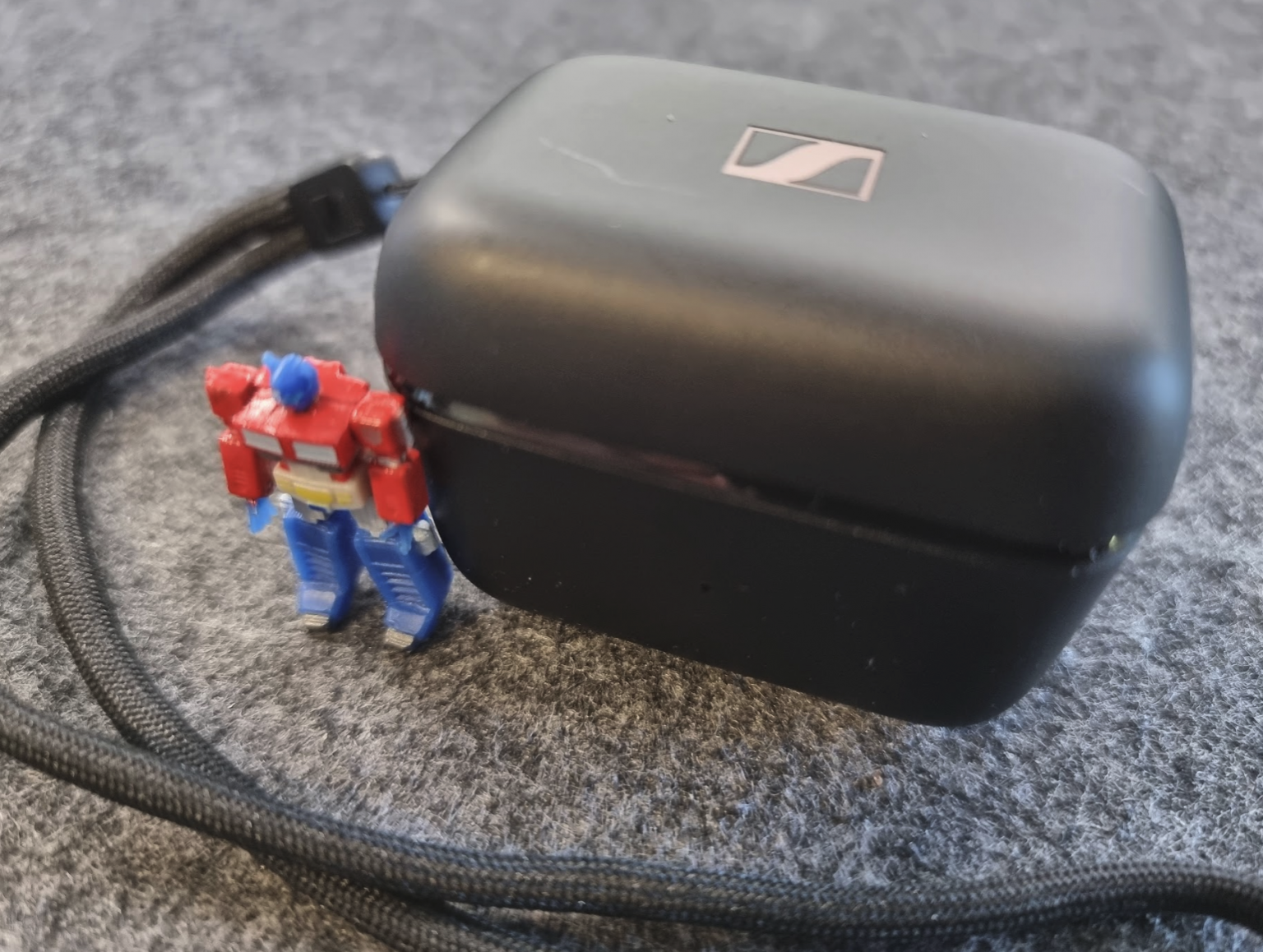 I love how they behave and perform at the gym, though. For this capability alone, they are worth the price. I'm still holding on to the last buds, as the Sennheiser's are not probably super lovely when watching a movie for two hours. The design makes it so that they drive into your ear, while other buds you can easily loosen up late in the night if you feel like it. My gym sessions are usually around 75 minutes, and for those, I have zero issues wearing them.
I'm foreseeing that I'll be using these for the next year or so, and then perhaps a more premium version is out that fixes the slight annoyances here. For everything else outside the gym and running, I'll use actual headphones, not these. And multipoint, I need that.