Review: Corsair K100 opto-mechanical keyboard for a typist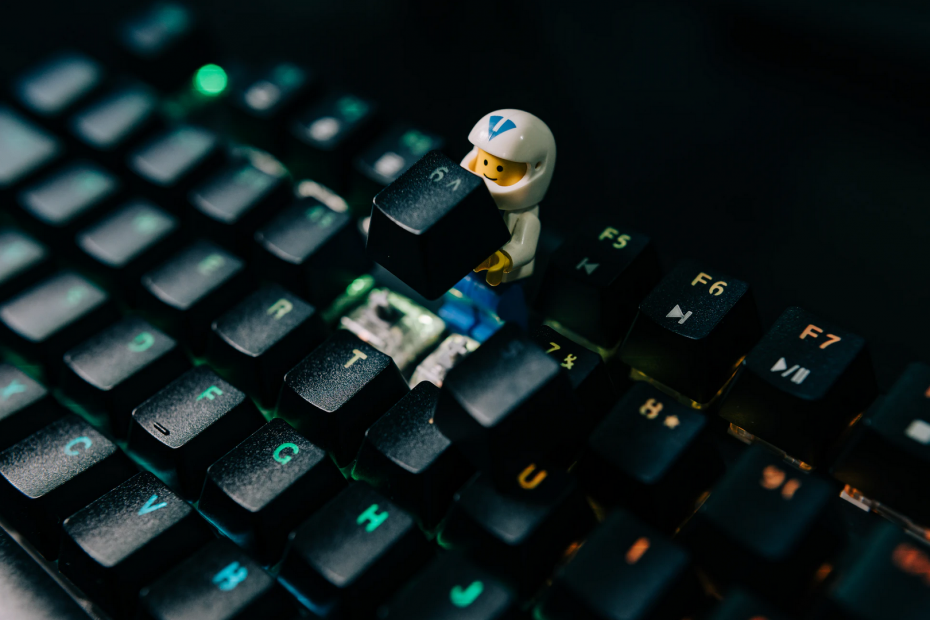 Today I'll take a closer look at the Corsair K100 opto-mechanical keyboard. It's now my main keyboard, replacing my previous Corsair keyboard, the K70 MK.2 low profile I had for several years.
When I started working with computers – when people actually paid for my time or services – I worked with the IBM Model M keyboard: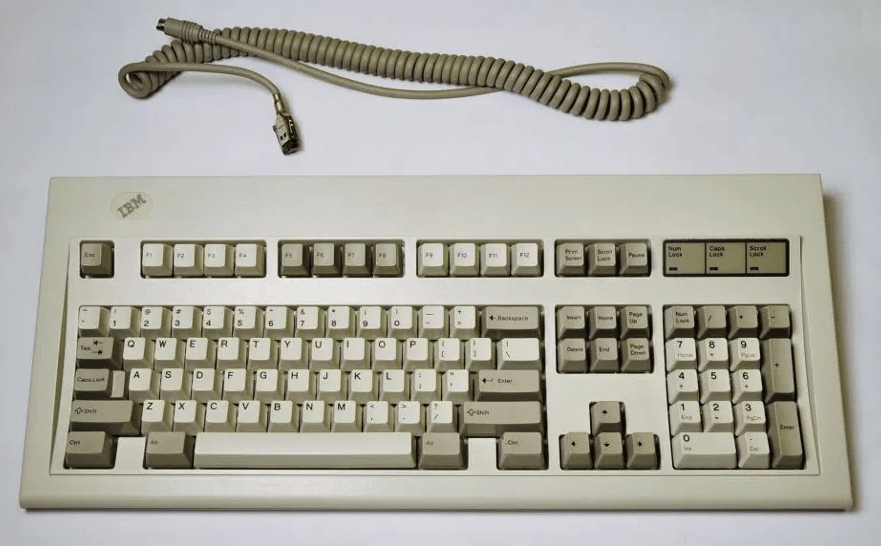 It was loud, the key travel was plenty, and it was very robust. Ever since then, I've longed for the same  feeling when typing. I settled for the Logitech UltraX Premium Keyboard for a very long time. It had the sort of chiclet keys, that resembled a laptop keyboard:

In-between these, I used a Microsoft ergonomic keyboard, but lately, they have been quite disappointing. Then, the Corsair K70 MK.2 low profile was my first mechanical keyboard: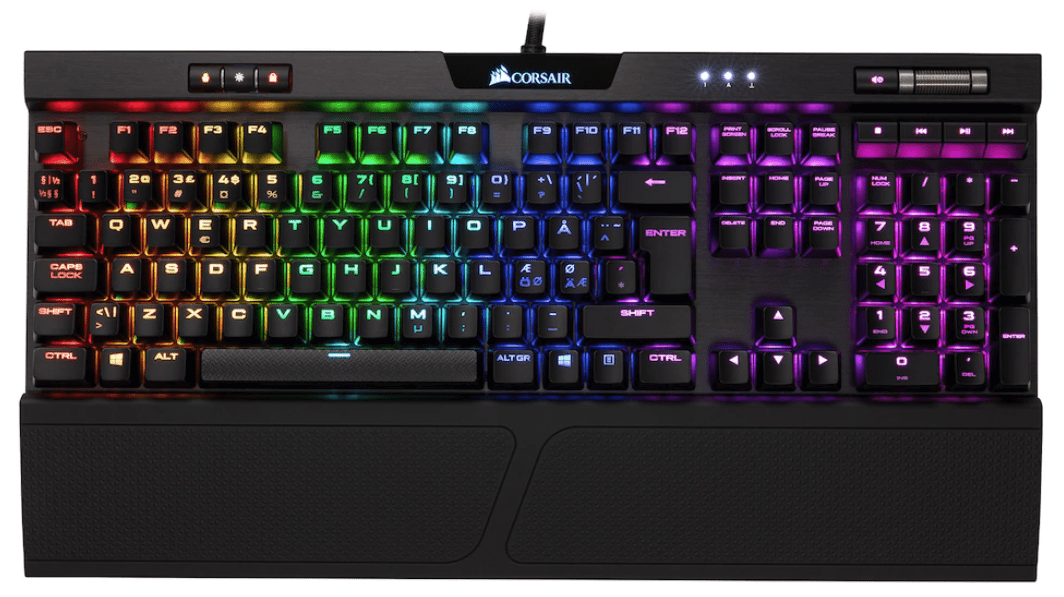 It's very sturdy, and the low profile makes it a pleasure to type on. The switches for each key are Cherry MX – and the actuation point is 1,0 mm with 45 grams of operating force. I really love this keyboard – it isn't too loud, yet it's fast to type on.
I don't bother with any of the RGB lights, so I disable them. The only complaint is the palm rest – it's hard plastic. Very unforgiving. I type about 1,2 million words per year, so I could feel my wrist starting to ache a bit, especially on longer writing sessions. In case you're wondering how I know the number of words I type, I use Grammarly to track most of them.
Corsair then released the MK100 model of their keyboard: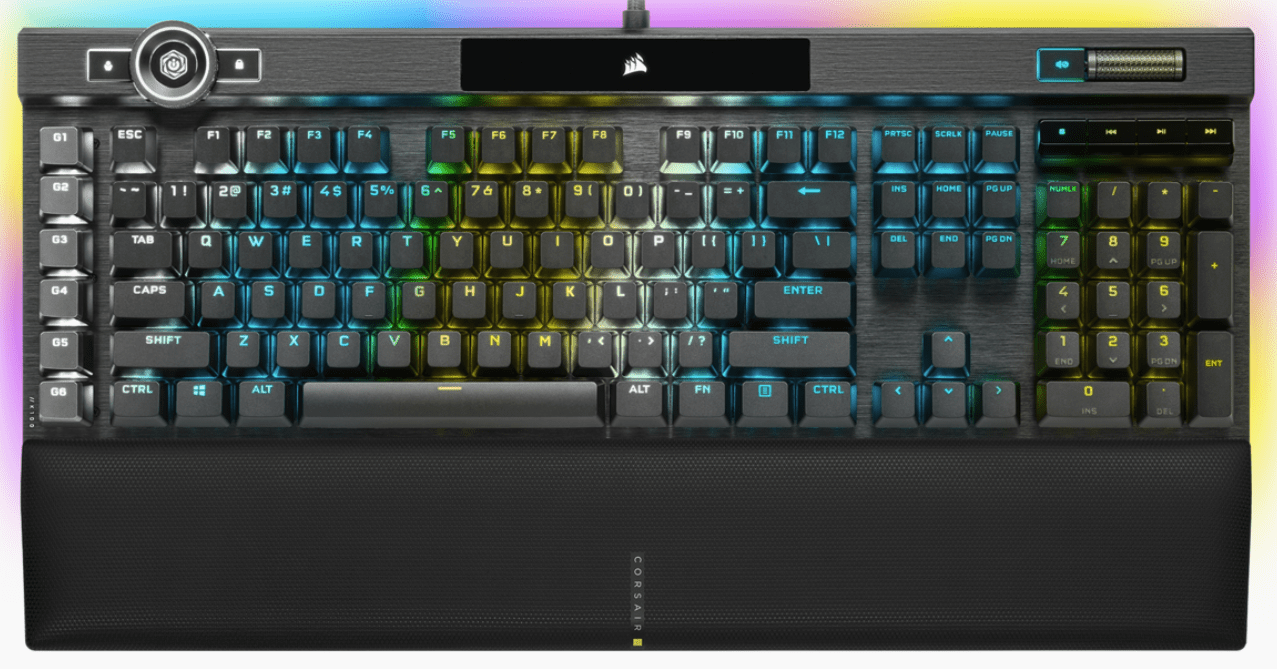 The main difference from the K70 is that this one uses Corsair OPX switches (although I think you can source this same keyboard with Cherry MX switches if you want). Corsair has a website explaining what this means. The actuation point is the same, 1,0 mm, and the operating force is also the same – 45 grams.
The palm rest is faux leather with a memory foam cushion and much nicer. It connects with magnets, which I feel is unnecessary, but adds slightly to the premium feel. So, I went out and purchased this – partially for the better palm rest, but also because I really wanted to try out the OPX switches.
Typing with the K100 keyboard
At first, typing on the K100 was awkward and just plain weird. It isn't low profile like my previous keyboard, so it took a day or two to get more adjusted. After about five days, I typed faster than with the low-profile keyboard. It's about the same noise level, meaning not too bad when typing.
I dislike the G1..G6 key row on the far left. My muscle memory has been trained over decades to reach for the Escape key in far left, and I occasionally hit G1 instead. After a week, it's not an issue any longer. I guess you can configure all sorts of macros and whatnot with these special keys, but I'm a minimalist when comes to this type of settings – I have no need for them.
Typing is smooth, and I feel my fingers traveling on the keys faster than previously. In recent years I've accepted that I cannot type as fast as I could when I was 20, and back then, I typed 16 hours a day. It comes with age, I guess (I turn 44 this April). Yet, with the K100, I'm typing faster than in years. I took a quick test with TypingTest.com – and got to 140 words per minute (adjusted after a few typos). With the K70, I usually got up to 130 words per minute.
One of the claims from Corsair is that the K100 has a USB polling rate of 4000 Hz. Thus, the keyboard has a response time of 0.25 ms. For my typing, it doesn't matter. For gaming, I guess it matters.
By default, the polling rate is set to 2000 Hz (0.5 ms):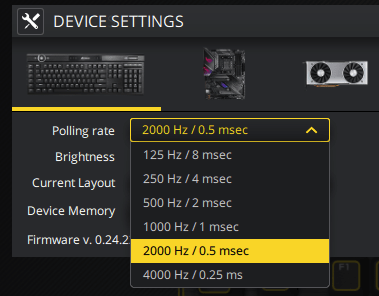 I set the polling rate to 4000 Hz. I am still typing at the same speed 👍.
The keyboard allows for all sorts of weird and joyful configurations with the iCUE app: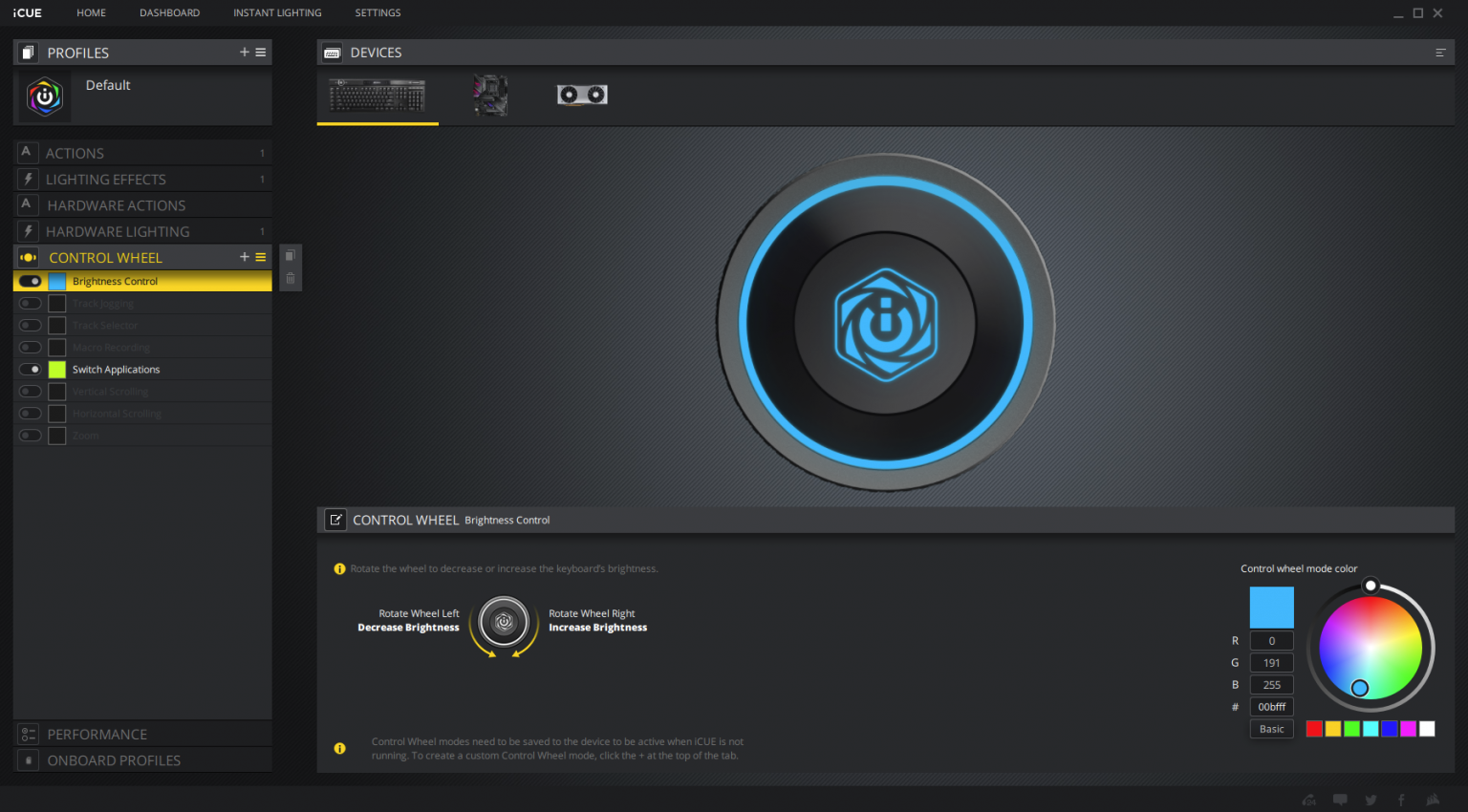 Here's a screenshot of the control wheel. First, I thought I'd use this massively – so I configured it to flip between apps (just like Alt-Tab in Windows). I haven't used it since. Again, my muscle memory has been trained to Alt-Tab for a few decades, and before this, it was trained for fast window switching on DESQView with Alt.
In closing
It's a great keyboard. But it also isn't cheap – I paid 201 € (~$239) for it before taxes. I also feel it's eternal, in the sense that it's built like a tank. The features are insane, and I don't truly need all of them – including multiple profiles, on-board memory to save the settings when switching between computers, replaceable keycaps, USB passthrough, and such.
I can warmly recommend the Corsair K.70 MK.2 low profile, as the price point is now quite tolerable at ~130 € (~$155), and it's about 90% identical with this keyboard. Yet, typing on the K100 is nicer, faster, and a little bit more quieter.
When I contemplated purchasing the Herman Miller chair, I figured I'd be using it for about 5-8 hours each day I'm working. The keyboard I'm using 8 hours each day I work – thus, over the next 5 years, the keyboard will get about 8250 hours of solid use. That puts the price in perspective for me.