Review: Synology DiskStation DS1821+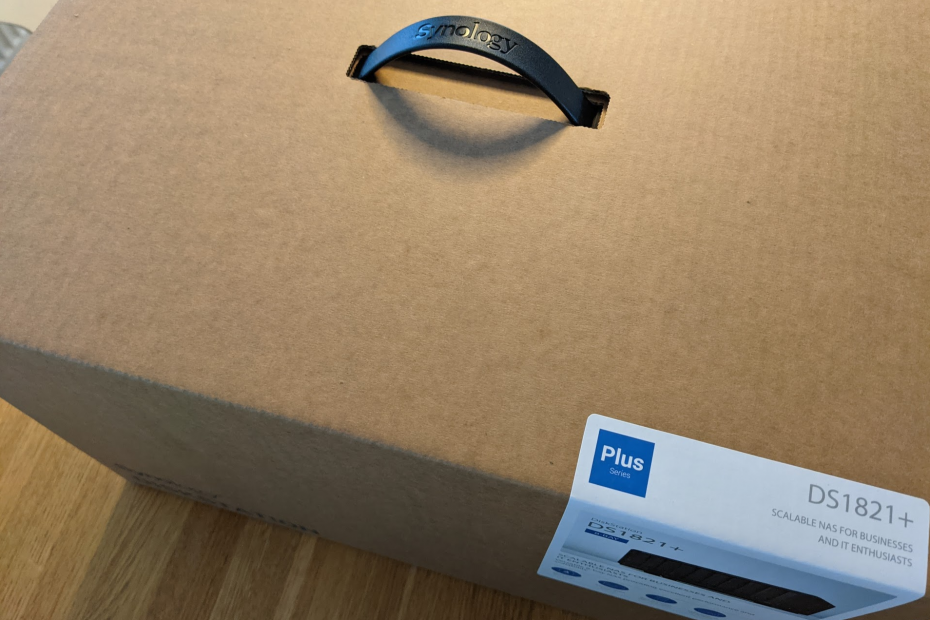 I've written about my Synology NAS device once or twice (configuring it for Azure backups, upgrading the RAM, switching from Dropbox to Synology Drive, and if a NAS is actually needed) – the model I've had for years is the Synology DiskStation 412+. It's old, from 2012, but it works very, very well – even if it's slightly sluggish.
For the past year, I've been thinking of an upgrade. Synology has plenty of models, and I wanted to remain on this brand that has been so consistently good for me. I also wanted to future-proof as not to revisit this problem in the next few years.
I opted for the Synology DiskStation 1821+. It was released in December 2020, and it is one of the first models with a proper (non-Intel) CPU – an AMD Ryzen (an embedded model).
About the device
It's a solid piece of hardware that runs on Linux. As the model name states, it has 8 hard-drive bays, and it's a 2021 model. Other notable features include dual M.2 NVMe cache, expand support for up to 18 drives (8 internal and can connect with two DX517 expansion units), up to 32 GB of RAM, and a 10 Gigabit Ethernet option (purchased separately). You can view full specs here.
It supports a maximum single volume size of 108 TB, and you view the long list of supported hard drive brands and models here. For now, the largest individual drives it officially supports are 16 TB. Thus raw capacity can be 128 TB (16 TB * 8 bays), but obviously, you'd want some redundancy and parity for that.
It runs DSM, Synology DiskStation Manager, a browser-based UI to manage all aspects of the device. And it's great!
My hopes for the device included much better performance, more capabilities (due to the SSD cache and additional RAM), and the option to upgrade my network to support 10 GbE connectivity in the future. Also, browsing the device's manual, it turns out that the fans are user-serviceable, which is a major difference from the older Synology devices.
My setup
I plan on using the new device at least for the following needs:
File server (via SMB3 file shares, so plain old 'X:\' drive if you will)
Backups to the cloud
Backups to external storage (such as USB harddrives)
Local DNS services for my internal networks
Docker host
Infrastructure VM host
Synology Drive services (similar to Dropbox and OneDrive for Business, but in my control)
Media storage (my Plex media server runs on a real server to ensure better performance with a GPU)
In essence, the most significant value I seem to get from a device like this is that it's running at all times, is very silent, and "just works."
I ordered the device in early January. It was sold out in most places, but I could find one at an online shop I've used in the past in the EU region. The base price – with 4 GB of RAM, no disks, without the 10 GbE adapter, is about 1000 euro, plus applicable taxes such as VAT.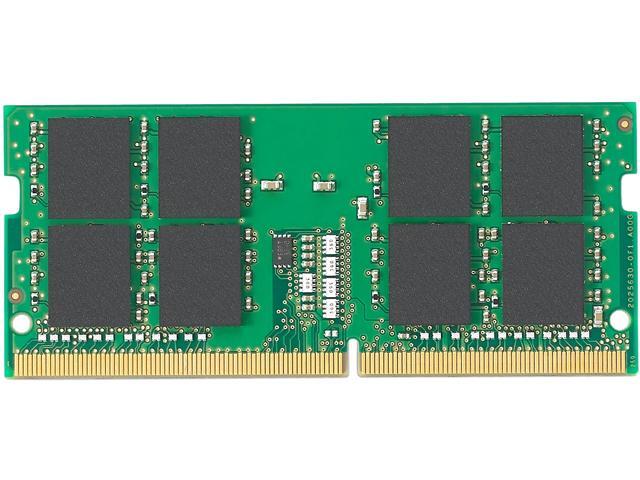 While waiting for the product to ship, I checked the supported RAM modules to expand beyond 4 GB. Synology has started to ship its own RAM modules. Thus they are the only ones officially supported. I couldn't find these anywhere in stock, so I checked Kingston's compatibility list. They have 16 GB DDR4 modules with ECC. I looked up the exact part number (KSM26SED8/16HD) and ordered two of those – for about 80 euro/piece. I read somewhere that Synology will keep nagging in the web UI about incompatibility for certain memory modules; thankfully, this was not the case with the Kingston modules I chose.
I still have my old Synology DS412+ with about 12 TB of storage, and I chose to keep that as a hot standby/backup device for the foreseeable future. Therefore, I needed new hard drives for this new NAS. I went with the Western Digital Red Pro 12 TB models: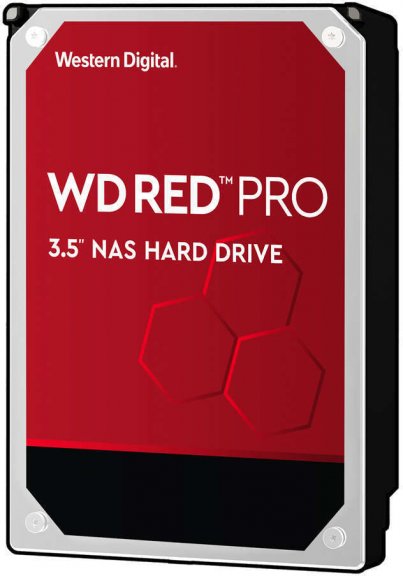 They are designed for NAS devices, and with 7200 rpm, I felt they are speedy enough for my needs. I ordered four, and at 385 eur/piece, it's a sizable investment.
The last major investment here is the M.2 NVMe cache. They are 2280-size drives, and you usually need two. Synology sells their own now, and I wanted to ensure my setup is stable, so I got two Synology SNV3400-400G sticks. They are rated for 3100 MB/s, which is perhaps not the fastest ones around there, but the most supported ones for this device. They are about 180 eur/piece.
For those of you keeping track, the total cost so far is 3060 euro without taxes now (NAS: 1000 eur, RAM: 2 * 80 eur, drives: 4 * 385 eur, cache: 2 * 180 eur). I keep telling myself it's an investment for the next 5-10 years.
Setting up and initial thoughts
I got the Synology after a week. I already had received the drives and RAM modules before this, so before turning it on for the first time, I installed the RAM and the drives, including the cache. It was a breeze – the cache modules fit neatly inside the enclosure, and the RAM was easily installed via a separate panel.
Powering the device on, and it just works! Obviously, for quality hardware such as this, you expect it to work. Setting up takes only a few minutes – configuring remote connectivity, setting up the volume, and basic network settings.
I connected the device with a single 1 Gigabit Ethernet connectivity, even if the device has four. I'm anticipating I'll soon upgrade to 10 GbE, so the 1 Gigabit is enough to get started.
Initial thoughts on the device are that it's certainly swift. I migrated most of my data by copying from the old NAS to the new NAS using Robocopy. It's perhaps a bit crude, but most of my files are media files, backups, photos, and such, so I wasn't in a hurry.
The initial volume that I created utilizes all four disks, yielding 32 TB of redundant storage space.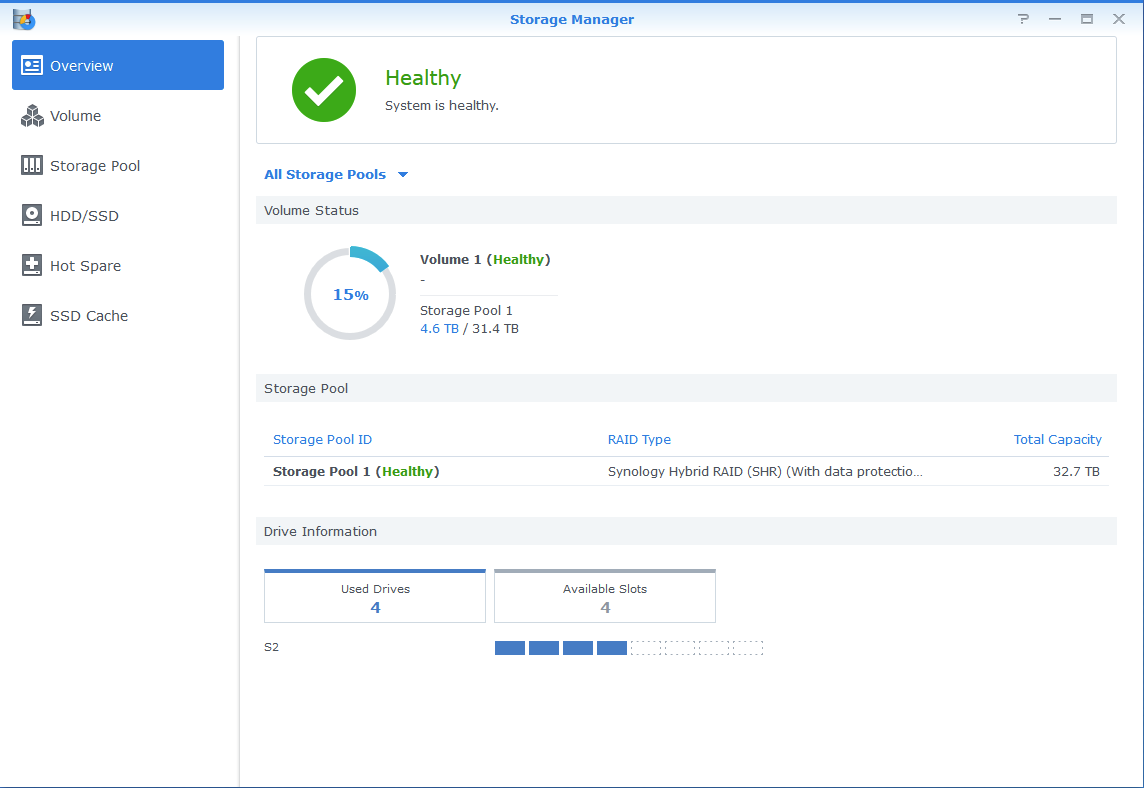 I set the SSD cache to read/write, and it works beautifully also: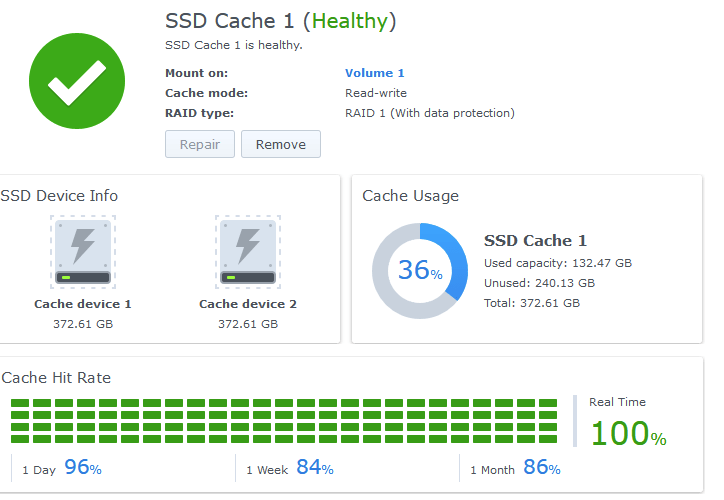 Synology has an option for creating a RAID5 volume called Synology Hybrid Raid. And that's available as SHR1 or SHR2 – essentially letting you choose if you want one or two drive redundancy. The thinking here is that if one of your drives fails and you start rebuilding the volume, you're good – unless another drive breaks in-between. You can play around with the different RAID settings here. With four 12 TB drives on SHR1 you get 36 TB of net capacity, while with SHR2 you'd get 24 TB of net capacity:

Most of my data is not that critical, so I went with SHR1 and Btrfs for the file system. My older Synology uses ext4, so that imposes all sorts of restrictions on snapshots between the devices. With my 1 Gigabit connectivity, I'm getting a fairly decent 110/108 MB/sec speeds: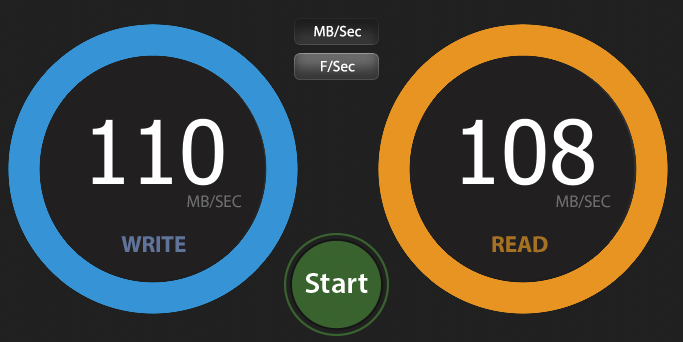 (I also spun up iPerf3 in a Docker container to verify this more robustly, showing the same speeds).
Since I also utilize Synology Drive heavily, it's now super speedy. Browsing through a folder with hundreds of photos is fast – no more waiting for those small thumbnails to render!
With 32 GB of RAM, you can also now run virtual machines natively, so I did try that too. A Windows Server 2019 is installed rapidly and runs very well on the device.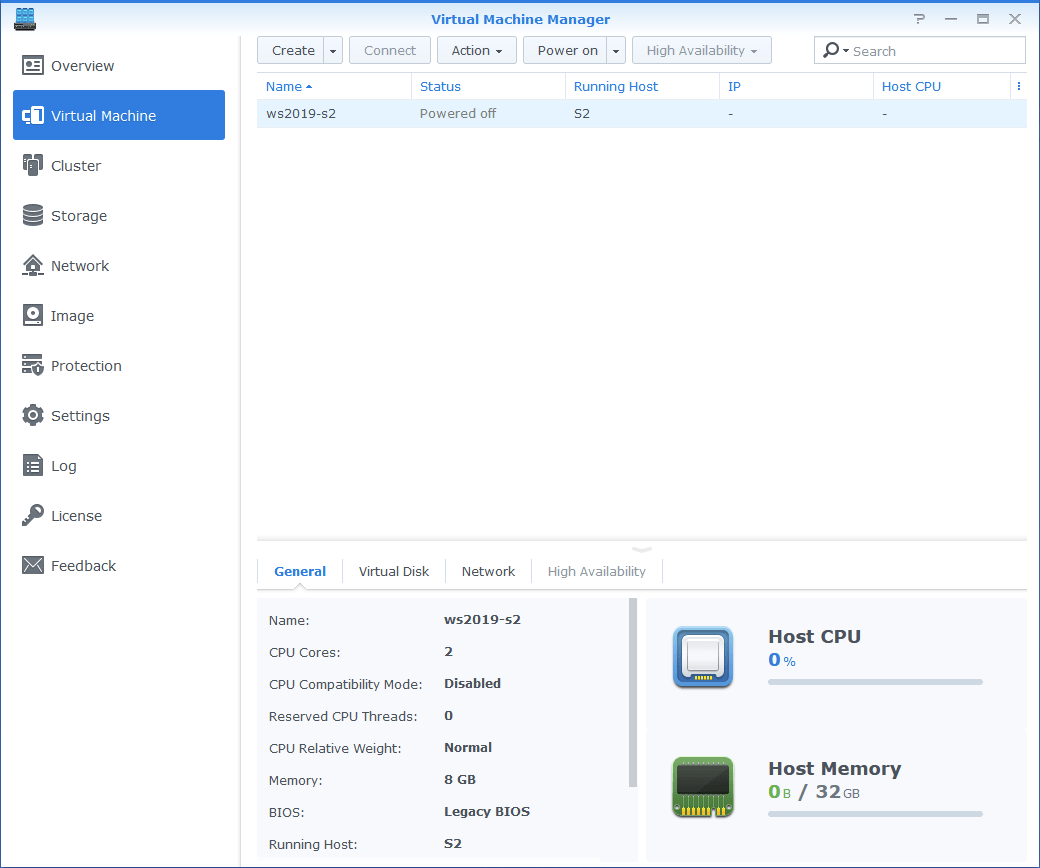 In closing
I'm thrilled with the device so far. Another model that I did consider was the Synology DS1621xs+, which is slightly cheaper with 6 drive bays. It has an Intel Xeon processor, which would have been nice – but no support for SHR, which I feel is crucial for the future. Beyond that, I feel the two devices are more or less identical.
The next steps for me include the upgrade to 10 GbE and some additional utilization of the many Synology packages you can install on the device.