Quick book review: Smart Marketing for Engineers: An Inbound Marketing Guide to Reaching Technical Audiences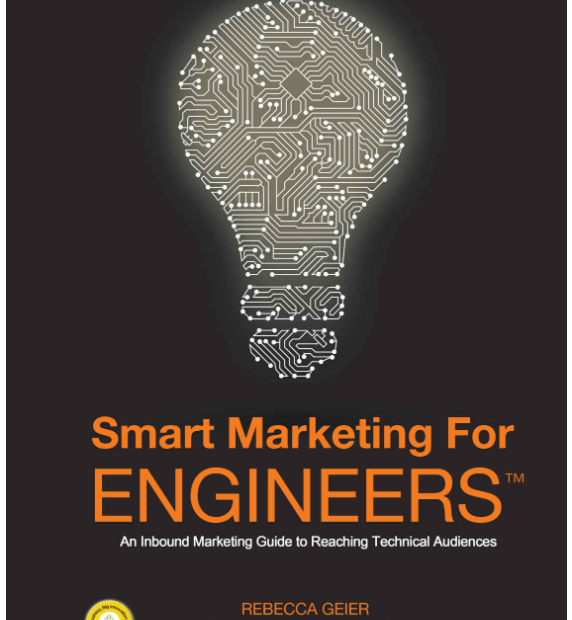 I've been reading more lately, and it's a mixture of articles, books, blogs, and whitepapers. I enjoy them all, but books often give me more ideas, as I need to concentrate more and find time for reading.
One of the books I finished early this year was Smart Marketing for Engineers: An Inbound Marketing Guide to Reaching Technical Audiences by Rebecca Geier. I purchased the book for Kindle, and read it quite rapidly during two or three evenings after the kids went to bed. At the time of purchase, the book cost me $10.49.
I wanted to learn more about modern marketing and how to best approach the ideas on inbound marketing. The book had high ratings (5 starts, yet only 21 ratings), so it looked promising in this slightly narrow area I'm trying to ramp-up on. The book is 200 pages, which I like – too many times I've purchased a book only to realize it's 795 pages, but actual content could be fit in 100 pages easily.
The book is divided into three sections: Building your marketing foundation, explaining inbound marketing and driving for scale and growth.
The approach in the book is somewhat American, both in a good way, and less good way. I sometimes find it's hard to simply pick and re-use concepts in Europe without applying a local context. And by local, I feel it's often different in the Nordics, as opposed to Central Europe or Southern Europe.
I found myself skimming through some portions, but this is mostly because I have less need to figure out what industries are priorities, or what we do better than our competitors. Many of the examples laid out in the chapters are clear and concise, but relevant for someone technical like me. Some examples, such as the Southwest airlines example, are so re-used in business schools that I knew what I was reading the moment I saw the Southwest logo.
A large focus is reserved for marketing personas. I've read plenty of opinions on for, and against using personas, and I'm still undecided myself whether it's something one should embrace fully, or rather a useful guardrail to lean against for certain specific targets. I found it tiresome to read through fictional personas page after page.
There's a chapter on building and designing websites, and while it was decent, it was also very high-level and aimed at novice web designers. Serves a purpose, but felt a little bit tacked on to expand the book further.
Treating your content like a product was one of the key messages within the book. It really hit home for me, and yet it was something I knew I knew even before purchasing the book. But then again, simple truths are the best truths. There are several mentions to Hubspot and similar tools, so it probably makes sense to invest into these if you are to follow many of the examples laid out in the book.
Finally, the practical tips and advice on converting leads, creating effective Calls to Action and building forms was useful.
Overall, the book gave me a nice overview of 'everything', yet many topics I felt I need to read more about, and some topics I discarded as I have little use for more in-depth knowledge on those.
I would recommend the book, if you need a quick, 200-page intro to modern inbound marketing, especially if you work within social media, newsletters and other similar channels.
My rating for the book: 3.5 / 5