Everything is subscription-based - so how much am I paying for the services I use every month?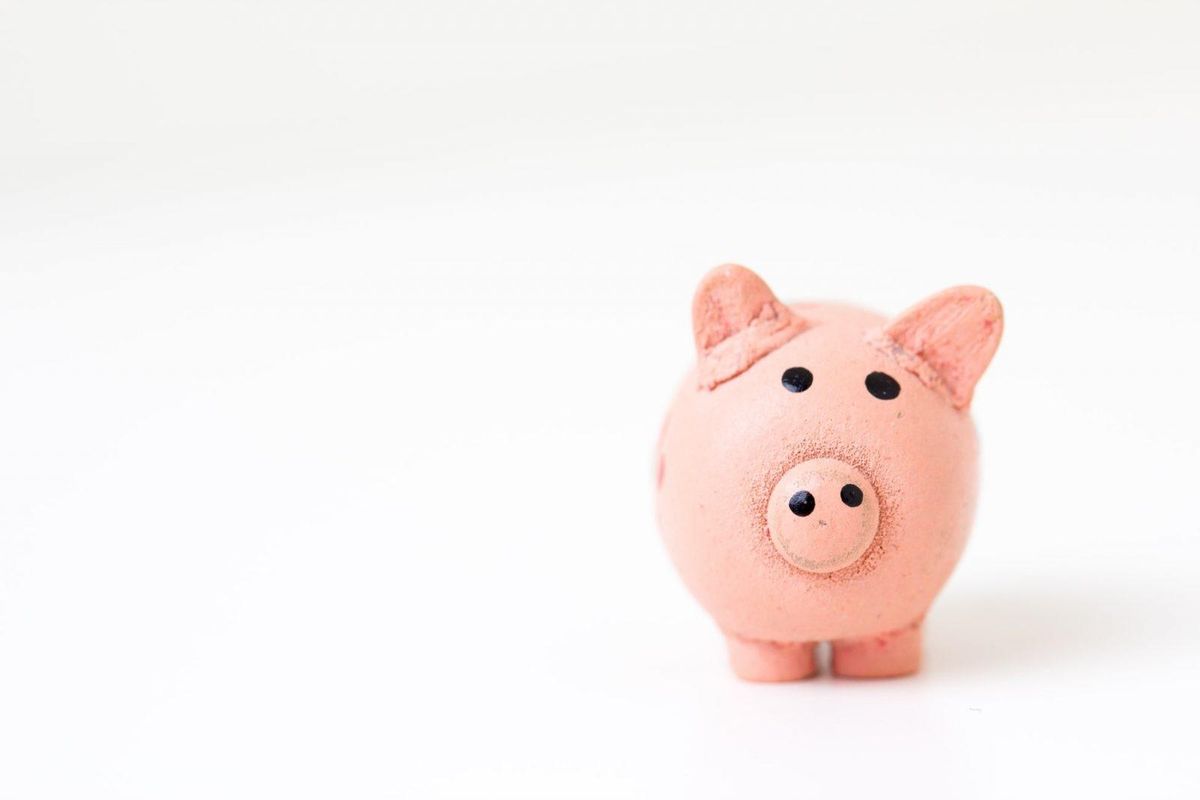 I wrote about closing down my Dropbox account last week. During the weekend I had some time to reflect back on that decision (for which I am still happy with), and also the amount of money I paid for Dropbox over the months. It was close to  $1400 in total over 10 years, or so.
I've been an entrepreneur for 10 years. For the first two years, I struggled, quite a bit, with making ends meet. I think it's part of the journey when you decide to bootstrap your business. After a few years, the business started looking better and I was able to pay myself a decent salary. Far from the salaries and bonuses, I got while working at Microsoft, but still decent to get by. Even if in the last two years I've been a little better off, I still remember – with a little bit of fondness, too – the struggles and challenges I had.
This got me thinking further. Most services and offerings I'm signed up for are based are subscription-based – how much am I actually paying for the services that I use every month? And do I need all these services?
I decided to tally up the services I use and pay for and decide then. I'm also slightly late, as I did some cleaning up earlier this year but even then I figured it would be a solid financial decision to verify my subscriptions.
I came up with this list:
| | | | |
| --- | --- | --- | --- |
| Service | Monthly cost | Used since | Total payments |
| Netflix | 14,99 | Jul, 2019 | 14,99 |
| Spotify Family | 14,99 | Mar, 2016 | 595 |
| HS (Newspaper) | 30 | Jul, 2019 | 180 |
| Harvard Business Review | 8,25 | Mar, 2019 | 99 |
| Google Photos Storage | 1,99 | Jan, 2019 | 17,91 |
| Plex | 4,99 | Nov, 2017 | 104,79 |
Going through the list quickly; Netflix I haven't had in years anymore. I finally relented and signed up for it this summer, as my kids kept complaining there is "nothing to see on TV/Plex/DVDs/Apple TV." Okay, it's only 14,99 € so why not. This plan gives me 4K support and 4 simultaneous streams.
Spotify Family has been a necessity for years now. I upgraded for the family model when my two oldest sons grew old enough and started asking for Spotify access. I use it quite a bit myself too, as can be seen from this snippet from Spotify's statistics: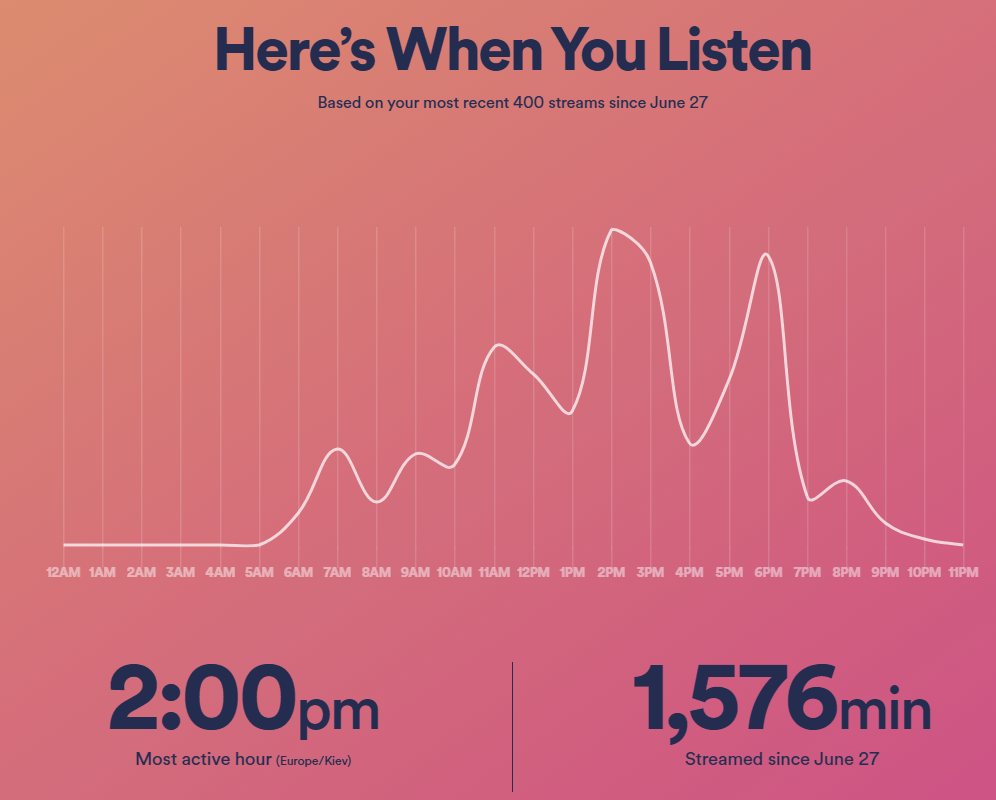 That's about 29 minutes, each day. For 14,99 € I think it's reasonable, but it still surprises me – it's 50 cents a day for 29 minutes of music.
HS (Helsingin Sanomat, the largest daily newspaper in Finland) I didn't subscribe to for years. Their online portal is great, and many of the articles are free. Now that I've been working more from home I felt it would be nice to have something to read in the morning that wasn't digital. The deal was 180 € for 6 months, so 1 €/day including print, online and digital (are these not the same? anyways).
I subscribed to Harvard Business Review in March this year. Partly for my studies, partly to broaden my horizon. I tried the New York Times and a few other US-based newspapers, but HBR felt best. Their vast online archive has been invaluable for some of my homework, so the price is well justified.
Google Photos grants me, I think, 10 GB of storage space for free. With the additional plan, I get to upgrade storage to 100 GB. My photos currently take 20 GB, so this makes sense. I used the service daily, especially for sharing photos of our family trips for the extended family.
Finally, Plex. It's an interesting service, that I've used for a few years now. It's free, but a Plex Pass is required for some of the premium features. For me, it's the recording of broadcast TV and offline sync that I use most. I realize now that Plex offers a lifetime – one-time fee essentially – that I haven't bothered to purchase. Perhaps it's time to switch to that one, someday.
Plex offers a nice set of built-in statistics, which shows me that in our household we're semi-active users:

To visualize my subscription cost, I plotted the values in Excel and it came out with this piechart: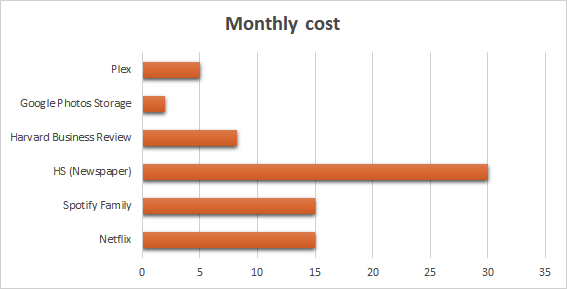 HS (the newspaper) is about double for what I pay for any other service. Then again, it's about 2400 pages of content each month – delivered to my front door.
Lifetime cost paints a different picture: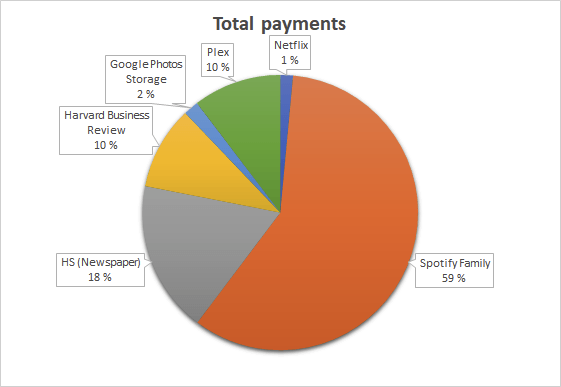 Spotify, which I've had for over 3 years, has obviously cost me the most – about 600 €, so far. That's a lot to pay for having music in the background when you work.
Normalizing these for the current year gives some additional insights: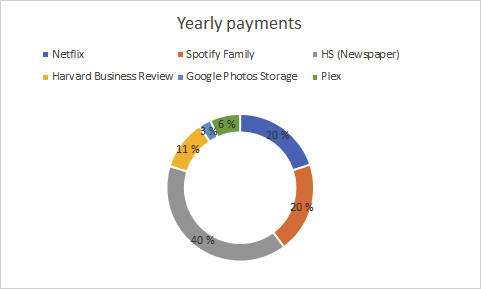 The newspaper is still the largest individual investment at 40 %, while Spotify is 20 %, as well as Netflix. The others are negligible in terms of payments, totaling 20 % of monthly subscription fees.
In conclusion
As much as I like to think of myself of being on top of things, it's still eye-opening to list simple things like monthly subscription fees to see the state of things. It's surprising how much Spotify, in the end, costs me. Even if I use it daily, it's still 180 € a year. I'm not sure what the alternative would be, that would integrate so nicely with everything I've currently integrated Spotify (the car, Sonos speakers, TV, etc).
I'm happy I've pruned a lot of useless services from my life, some which cost me money, yet I'm still certain I could perhaps cancel a few of these services without sacrificing much at all. Amazon Prime is something I canceled before the holidays this year, as I realized I didn't have any use for it.
I highly recommend anyone reading this to do this same kind of exercise, as it only takes a few minutes but can be very enlightening!