I had a chance to participate in European SharePoint Conference last week in Stockholm, Sweden. This was nice for several reasons. I didn't have to travel all the way to Seattle, like the previous week for Microsoft MVP Summit. My flight from Helsinki also took less than an hour, which is very convenient.
For the first time ever I chose to fly to Bromma, instead of the more international Arlanda airport in Stockholm. This was a very convenient way of getting to Stockholm fast. The downside is that when leaving Sweden, Bromma seems to be very crowded and cramped.
The keynote(s) and announcements
As is a tradition there were several keynotes, one or two for each day of the conference. While I'm not a huge fan of generic keynotes, there were some good bits throughout the week. A problem with keynotes is that too often they provide smoke and mirrors instead of real, tangible value. I'd be happy with a 30 minute keynote with solid content and this might have to do with my Finnish mentality for "talk less, if you have nothing of value to say".
Several bloggers and authors mentioned in their pieces that "SharePoint is back" or "SharePoint is now in the spotlight" after Jeff Teper's keynote on Tuesday morning at ESPC. SharePoint was definitely mentioned several times, and it was prominently displayed on several slides, together with OneDrive for Business. I'm happy to see the wretched Sites move to the background and make more room for SharePoint in the cloud – at least marketing-wise.
Most of the actual news during this main keynote were around SharePoint 2016, and most prominently the public announcement for SharePoint 2016 Beta 2, which should be out next week – around 26th of November. This should be a close-to-final preview, feature-wise. Other things discussed during the keynotes for SharePoint 2016 were bits and pieces that have been discussed since Ignite in May.
The most energetic keynote was definitely delivered by Dan Holme of IT Unity. There's much to learn from in terms of presenting and stage charisma, for sure.
Let's talk about Yammer then
Yammer is a troublesome topic these days. I was intrigued to see if Microsoft provided any news for Yammer in a venue like this, but I wasn't surprised that it was barely even mentioned during the week. There were only a few (3 I think) sessions that touched on Yammer during the week.
Wictor Wilén wrote a opinion piece on Yammer in early October – it's a good read, so go read it now. There's plenty of commentary for and against, as is expected. It seems that whenever someone states "X is dead/bad/horrible/not good", there's 10 people telling how the person is dead wrong, because "X is good". It's worthwhile checking out where both parties are coming from. If you make your days earning living as a consultant for X, it's natural that you're against anyone telling you it might be crap. I think I've had my fair share of discussions why SharePoint, Windows or Office 365 is horrible and why companies should instead use Z, W or X from that other vendor.
There was a session during ESPC, where a speaker mentioned that "Yammer is dead, as you know" or something very similar to this. It could've been a very dry joke at the idea that not much is happening with Yammer in the past few years. I couldn't resist to tweet about this, because there's always some good reactions to such claims:
"Yammer is dead", heard at #espc15, once more

— Jussi Roine (@JussiRoine) November 11, 2015
Some commentary followed on Twitter and Facebook. This also apparently earned me a Top Tweet in Twitter analytics, which I'm not particularly proud of since I'm not providing much value besides spreading a rumor. Which seems like a persistent one.
I know that someone randomly mentioning Yammer is dead in a non-Microsoft-owned conference isn't an official statement of any kind. What sparks my interest in the topic is the total wall of silence from Microsoft on this. The official Yammer blog has nothing to share on news about Yammer. The good news is that Office 365 Roadmap still has 7 features in development for Yammer, and a few features rolling out. Since there are no timelines, publish dates or promised delivery dates for any of these I wouldn't bet on the availability of any new features. Unless someone communicates a solid timeline and maybe provide a bit more visibility on the future of Yammer.
The good things from ESPC
I was very happy to have a chance to download a lot of the session content before the event started. I remember having the same option in some previous SharePoint Conference (2012, perhaps?) and it's a time saver. This way I have a chance to view through upcoming session content to see how it maps with the session description. These are sometimes so horribly distant from each other, that I prefer spending 60 minutes in a better session. So this was definitely a good thing and something I wish more event organizers would just do. It's not as if I'd cancel attending any session but at least I have a chance to select the most suitable session based on content, and not just the trailer.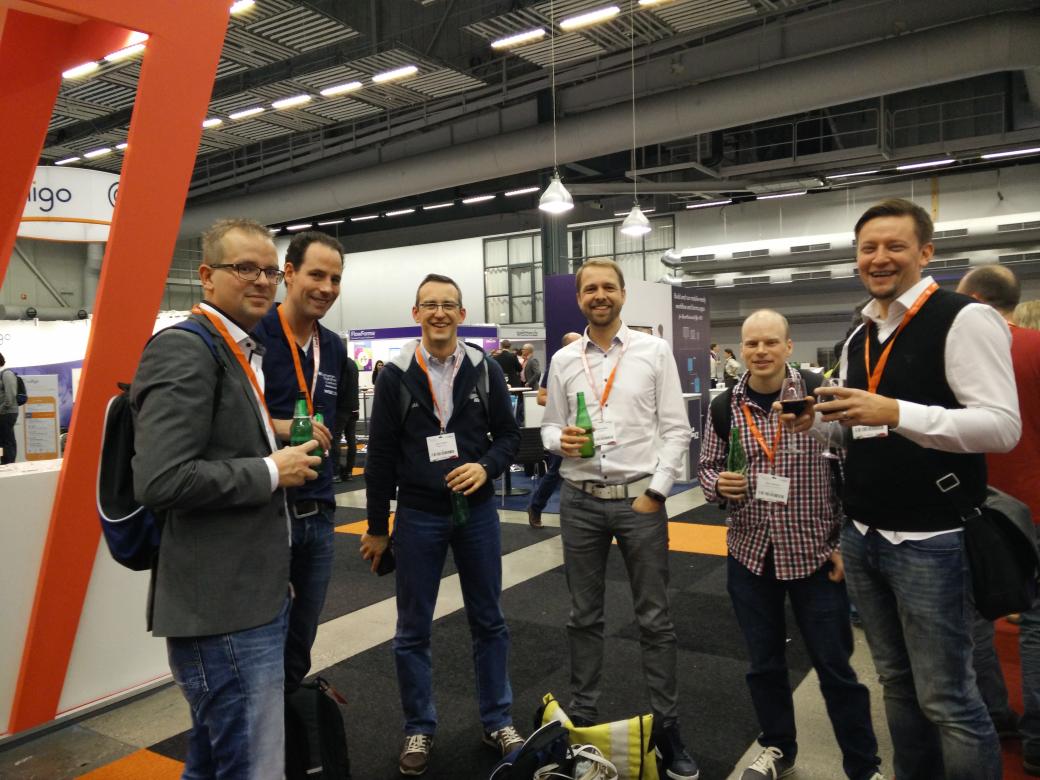 The event venue was very compact. After too many US based events I was expecting a mile-long walk from session room A to session room B, but not this time. I love walking but it tends to wear on you after a few days and takes away from your concentration on session content.
I also had a great chance to brush up on my very mediocre and rusty Swedish language skills. Apparently it paid to read Swedish in school as a primary foreign language, although I'm still far from what I should be in mastering this nice language.
The not so good things from ESPC
This could be very subjective, and apologies for that before hand, but to be honest, I attended too many sessions with serious yet classic issues. Instead of ranting on these, I'll just list the biggest issues, that I feel any presenter worth their while should know.
You are invited on stage, with 60 minutes of your and the audience's time. You might spend 50 minutes on actual content, and then 10 minutes on Q & A. You might spend 55 minutes on your content. You don't spend 36 minutes on your content and then tell the audience that you ran out of content. You did prepare, didn't you?
You don't copy slides from Ignite. You just.. don't. You had 5+ months to prepare for ESPC since Ignite was held, so why would you resort to just copying what's already out there? The audience is perfectly capable of finding the same slides and most probably already did, weeks before your presentation.
Don't ever – and I mean ever – start your session "Here's the agenda but I don't have time to go through all these today". So, how about you trim your session so that you have time to cover what is promised in the session abstract?
If you must show a demo in Visual Studio, and you've prepared this amazing custom solution, make sure it works. Just F5 and it must work. If you're unsure of your development skills, record the demo before and show us the video. Practice this before, not during the session. Also, if your demo feels very complex, maybe think again if it's a good idea to show a super complex demo to highlight a single concept.
Then, if your solution refuses to compile/deploy/run, don't spend more than 15 seconds debugging it. There's nothing more painful than watching a speaker with an audience of +100 people trying to figure out what broke and where. Just move on.
We, the audience, are interested in your session and you as an expert on the topic. Still, you don't have to spend 10 minutes talking about your resume – we can look it up if we need to find you later.
It's a great idea not to have a wall of text on each slide. But it's equally great not to fill your slides with very worn statements, such as "DevOps is good!" or "Make sure your solution scales." It's like saying "Make sure you drink water" in a survival guide. We know that. Give us the real meat.
Make sure your abstract, session title and session content are aligned. If you promise to show X, Y and Z, don't show as X and W, since that's not what we're hoping to get. Try not to over-deliver by underdelivering first.
Don't apologize that you didn't have time to prepare for the session. What the hell have you been doing, if not preparing for this very moment? Show us the respect, just like we – the audience – show by attending your session to hear your thoughts.
I was amazed that just after a few days I had a long list of not so good things from attending the sessions. I hope nobody takes these personally, as that is not the intention. The intention is that anyone wanting to present needs to prepare accordingly. During the week it was evident, that for several sessions zero preparation was done. As a speaker myself I try to follow my own advice, and try not sit on a high horse just giving cheeky advice.
Thoughts from European SharePoint Conference 2015